37 Great Must-Have Car Accessories For Your Next Road Trip [Updated 2022]
This post may contain affiliate links meaning that when clicked on, I may receive a small commission at no cost to you. It's a great way to support bloggers and content creators, but if you'd like to know more, you can search "affiliate disclosure" in the search box to learn more.
Updated May 2022
So you're planning a road trip soon, and you're wondering which car accessories for your next road trip will be.
You may have gone on road trips before and you have no idea where to start and what you could need for a road trip.
Or perhaps you've been on a few road trips and you're looking for other accessories that can make your car journeys more enjoyable.
Look no further than this post, where I share with you 37 great car accessories for your next road trip, that will definitely add comfort and ease to your car journeys!
Road trips are all fun and games until it's time to make the most out of the space in your car, and you're trying to get creative so that it's a comfortable journey for all, especially the driver.
Nevertheless, road trips are such a fun experience to have, and to really appreciate your surroundings from flatlands to majestic mountains, rural countryside to bustling cities, and everything in between!
And with spring break quickly approaching, a road trip might just be on the horizon for you.
Living in a large country such as the U.S. where flights and train transportation can get really pricey and the car is the primary way in which people transport themselves on the daily, it's no surprise that car travel is one of the main modes to travel long distances.
As someone who loves to drive in general and go on road trips throughout the Midwest throughout the years, I have accumulated my fair share of car accessories and I've also discovered other useful gadgets that I want to share today to help you make your road trips run smoother and easier.
So today, I'm going to be showing you 37 great must-have car accessories for your next road trip – a list of genius, incredibly useful car accessories that will help maintain organization, cleanliness, and clutter-free space within the small space of your car, for long distances.
Let's get excited about discovering our own backyard this year, and making it a smooth and comfortable journey with the addition of these 37 incredibly useful car accessories!
Like it? Pin it!
How can I make my car more comfortable on a road trip?
When planning a long road trip, you should consider a couple of things and people (if you're traveling with others) in order to begin thinking of ways to make your car more comfortable on a road trip.
Road trip duration: For instance, consider the number of hours you will be driving. Will it be a 3-hour road trip or a 12-hour road trip? Depending on the number of hours you will be on the road, you will have to determine
Who are you road tripping with?: if you're planning on traveling with others, you'll have to think of their possible needs. Are you traveling with kids? It would be a good idea to pack their favorite snacks, and favorite toys, and download their favorite movies that you can play on an iPad or other child-safe tablet. Are you traveling with Teenagers? Consider packing a cooler with their favorite sports drinks, water, and snacks. pack fun card games for those stretches of the road where there may be low to no cell service.
Weather: Consider the weather, and if it will be a road trip in the winter, pack blankets, and heated blankets for naps, maybe even a nifty little portable kettle or espresso maker to warm you up. If it's a hot destination, make sure that your car has received proper maintenance to turn on the A.C. but also stocking your car with portable, old-school portable fans wouldn't be a bad idea.
Cleanliness and Organization: Car travel accessories definitely include those that help keep your car clean! No matter the distance of your road trip, cleanliness and organization should be a priority, especially with multiple people all sharing a small, cramped space. Organize your space with:
What are the most essential car accessories?
The best road trip accessories for your car are the ones that will ensure your safety if you were to have an emergency on the road.
For instance, making sure that your car has received the maintenance it needs to fulfill a road trip, should be your first priority. Checking window washer fluids, oil, tires, A/C and heat, brakes, etc.
Additionally, consider buying roadside assistance if you don't have it, in case of car issues in the middle of your road trip.
Lastly, also look into purchasing a roadside emergency kit that you can use for minor issues. Whether you're the mechanic, or someone traveling with you is, it's a good car travel accessory to always pack.
What are some cool things to add to your car for a road trip?
It seems like with the rise of #VanLife and the little house movement, there have been many household types of items that have been converted into versions ideal for small, car spaces and road trip accessories.
Everything from portable water kettles, to atmospheric car LED lights, USB star projectors, and solar panel car air purifiers – there are so many ways to not only make your car road trip ready with these car accessories but also SUPER comfortable and cool!
In today's post, I'll show more in-depth every type of car gadget and accessory, from essential car accessories to practical and cool car accessories for your next road trip.
37 Great Must-Have Car Accessories For Your Next Road Trip
You've possibly heard of the seat fillers that, well, fill those pockets between your seat and the middle of your car where the cup holder is.
However, since we are trying to make the most of the space we have available, I would opt for these side seat gap organizers that can store useful items like your phone, money, and napkins (you always have to carry napkins in your car, right??).
They come in packs of two and have AMAZING reviews claiming that the quality is top-notch and that it's easy to use right away.
It also kind of fulfills the purpose of the plain seat filler by keeping things from falling into those little nooks and crannies by your seat, so whenever something does fall through, your organizer will catch it and it can easily be dumped out.
Easy peasy!
These are some of the best forms of car accessories – the functional, OMG-they-make-these type of car accessories, wouldn't you agree?
This car accessory is SO necessary and helpful to mount your phone and have accessibility to it whether it's for GPS directions, or changing a song almost without looking too much at it.
Also, I don't know about you, but if I can help it, I try not to put my phone on the vent like with other phone holders that hold on to the A.C./heater vents in the car for two reasons: it blocks the air from coming out, and I think that so much air hitting the back of the phone, hot or cold, is probably not good for it.
Plus I also really love the ability to hold your phone horizontally, so you have a wider view of GPS, why would you want it vertical, right??
I mean, is this not genius??
I don't know about you guys, and I know it's probably not going to sound like the healthiest habit, but I love to eat in my car.
Even before the pandemic, I loved having car picnics and taking my food to go, and parking in a really pretty park, no matter what season.
Nowadays, it's probably become more common, as eating in your car has become the new eating out, but in my books, that's more than ok!
And whether you're going on a long-distance road trip soon or you're planning a car picnic, this car steering wheel tray is going to be even better with this car accessory that will make car picnics easier, cleaner, and way more fun!
Bonus: If you're looking for a similar desk solution for those in the backseat, something like a multi-functional car computer desk is a good choice amongst the other car accessories in this category to look into!
This is electric heated car blanket is AMAZING! Whether you're on a road trip, or you're at home (can be used in either situation) having a heated blanket that seamlessly connects to the cigarette plug in your car is super helpful (especially if you're traveling in the winter or to colder destinations by car).
When looking to buy this car accessory, make sure to look at the cigarette plug, and make sure it is 12V or 24V, as that is what this product explains is necessary to work.
This heated blanket comes with a timer for 30-60 minutes, and then it will automatically shut off, and it's warm and breathable enough to have on for when you're on the road, camping, or having lunch in your car and you're feeling a bit chilly.
File this heated blanket under the car accessories you didn't know you needed, because it's definitely more of a luxury item than necessity – nonetheless, it's a good one to have around.
This heated blanket will make your road trips more comfortable for you or your cold guests.
You know road tripping is all fun and games until you start to pack up the car, and you realize that you have to get creative with how you organize your space for optimal comfort!
Too many things cluttering the already reduced space of the car floor?
No thanks!
These back seat hangers (which you can also switch to hang things in the front seat for easier access for the driver) are such an easy, helpful solution to hang your bags in your car, as well as clothes, jackets, or scarves.
They come in packs of two and are really easy to install and use.
You really won't want to leave on your next road trip without this super simple but helpful car accessory!
Let's face it, road trips are messy. In between eating quickly on the road in order to get to your destination before sunset, having a snack to give your energy to drive, and everything else in between – a portable garbage can is so necessary and helpful.
This specific garbage bin, in my opinion, is better than having a plastic bag as a garbage bin because first of all, it's not just floating around on the floor of your car, it's got pockets to store other items, and it conceals all the trash with the lid and small opening on top.
It will make trash collecting and dumping at the rest stops way easier!
This is a no-brainer for the driver of the road trip to invest in.
This car accessory is awesome for long car rides and road trips because it is designed to support your lumbar spine (prevent low back pain) and because of its length, it will help you improve your posture over time.
The exterior cotton material is removable and washable, and overall odorless.
You can take this car accessory from the car to your home office for those work-from-home days, and your actual office chair as it's portable and easy to install! Save your back pain, and get one of these.
As far as car accessories go, If you're a fan of using packing cubes in your suitcase, then you'll definitely want to invest in this collapsible trunk organizer to help you keep all your belongings from rolling around and tumbling over in the trunk – so annoying.
This organizer is made of a durable, water-resistant, easy-to-clean material, and it comes with a whole lot of customizable inserts, pockets, straps to keep it in place in your trunk, sturdy handles, mesh pockets on the side, and so much more!
This is such a great organizer that you won't want to leave behind on your next road trip.
Plus, it's super useful for other situations when you may be carrying extra delicate cargo.
Beyond being a car accessory, I'd consider this item more of a car necessity!
Car accessories are meant to help the road trip journey easier, but also help keep you safe in case of emergencies.
Even if you have roadside assistance a call away, it's always a good idea to carry in your car a roadside emergency kit like this one, equipped with jumper cables, a shovel, gloves and so much more.
Another tip I want to share here is if you're traveling in the wintertime, I strongly suggest packing in a few old towels or clothes you don't need.
If your car loses traction or you've fallen into a ditch and you can't get it out on your own, placing towels or old clothes in front/back of the tires will help with creating traction and grip for your car to get out on its own.
It depends of course, on the size of the ditch and the car, but it's worth a try in some situations.
An emergency kit like this may be indispensable, for both taking a road trip and also in your everyday commuting.
It's one of those things that you regret not having until you need it…trust me on that.
Because you never know when you'll go through no service land, and then there you are, not knowing where to go, or which exit to take or if you're going in the right direction – not knowing how long until you get service again.
Don't get stuck, or worst, realize an hour into the drive that you've been going the wrong way!
A paper map, an atlas (remember those!?) are always super useful and helpful to carry in your car regardless of if you've been left without service or you want to double-check that Google Maps isn't taking you through some weird route (even Google Maps gets confused, you know).
I really love this paper map one because it covers not only the U.S. but also Canada and Mexico, and is also really easy to read especially for those of us who may not be used to using paper maps.
So you've got all of North America in one book, and with that, all the confidence to know that you can't get lost.
Let's hit the road!
When it comes to best road trip accessories, a vacuum should be up there.
Think about it; a road trip where people are all sitting in one place for a few hours, eating, snacking, drinking, as well as tracking dirt back in the car every time they leave and come back; it can and will get messy, and quick!
Whether you're traveling with kids or traveling with adult friends, the truth is, after a few days of road tripping and snacking in the car, there is bound to be a crumb mess happening.
Packing up an ultra-light vacuum can help you keep organized and clean, especially this vacuum that is compact, powerful, and does the job just right.
Getting a vacuum that can pick up wet and dry dirt, pick up food crumbs, has powerful suction, multiple vacuum nozzle heads to get to the crooks and crannies of the seats, and connects to the power outlet in your car, are all great things to look for in a portable car vacuum to help keep your car clean during long road trips.
Another one of the best car travel accessories has to go to a portable car power inverter, which is super useful to connect more than one device at the same time.
This car power inverter by FOVAL is great because it's the size of a credit card, and has 2 US standard sockets, as well as 4 USB ports and a DC 12V to AC 110V converter – which makes it powerful enough to charge anything from a phone, to a laptop or iPad.
A car gadget like this will make it super easy to keep your phone and other devices charged so you and your friends can keep playing music and tracking your route on Google Maps, keep working on your laptop, or keep reading on your e-reader. It's definitely a necessity these days.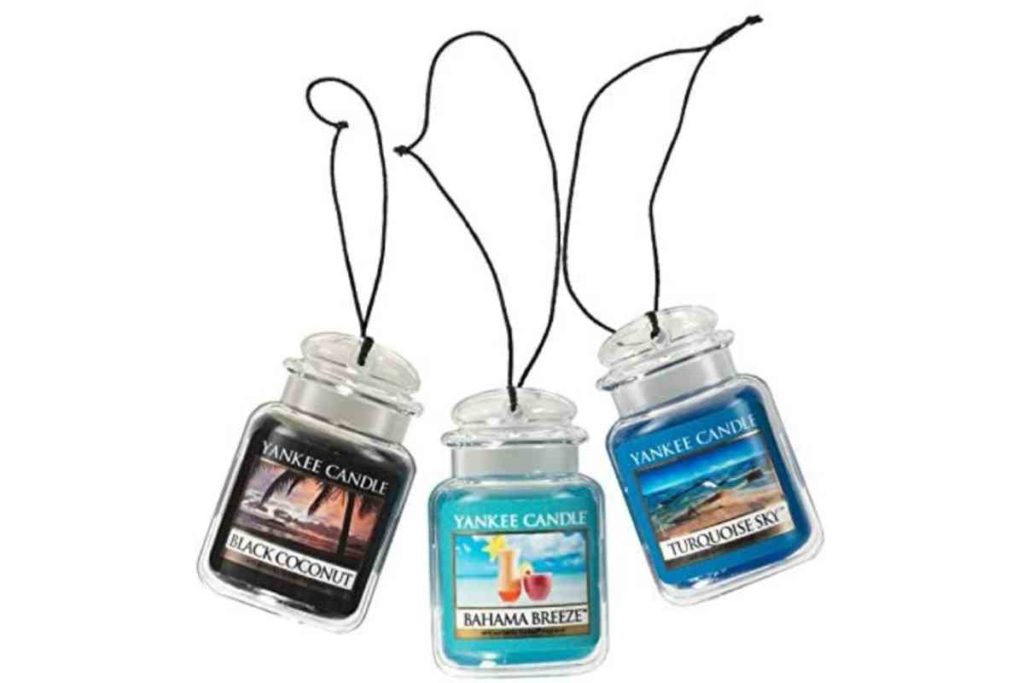 Don't forget to pack in a few car fresheners to keep the air in your car smelling clean and fresh while on your road trip.
Again, being in a usually cramped space for a few hours where food is being opened, and spills may occur, smells are bound to sink into the seats of the car, as well as stay in the air.
Keep things fresh with a few car fresheners by Yankee Candle, which always come through with some classic scents from tropical, warm and cozy, to fresh and floral. Subtle, gentle smells that won't nauseate the people in the car.
This pack car air fresheners by Yankee Candle comes with 2-4 weeks worth of frangrance (3 air fresheners), small and light enough to hang on your rearview mirror, and are recycable.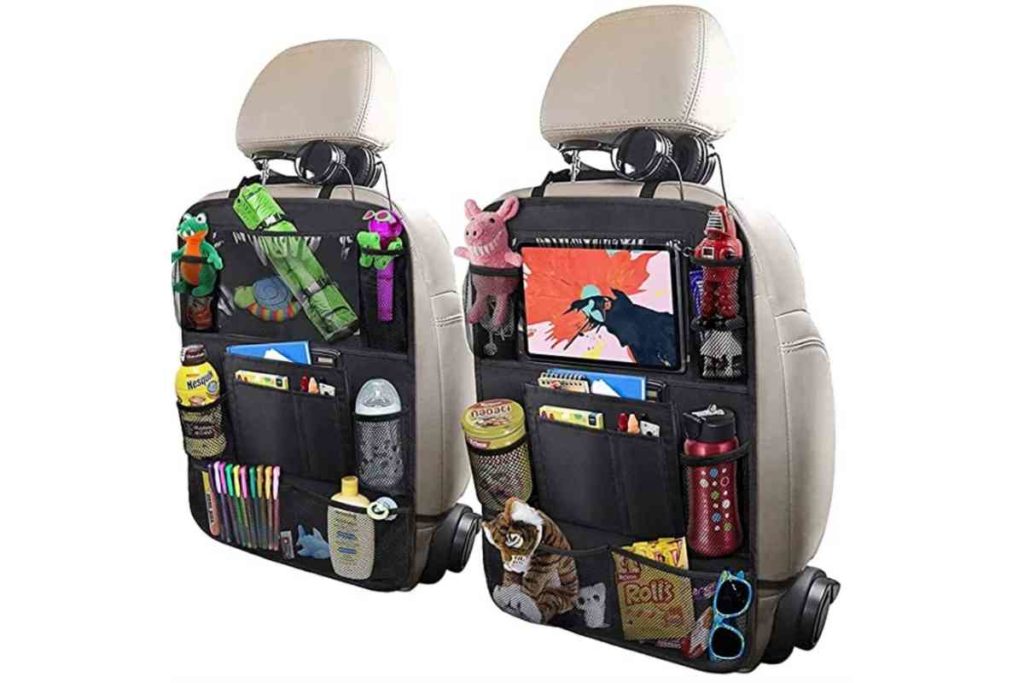 Whether you're traveling with kids, teens, or college students, these backseat car organizers are AMAZING to help keep everyone's materials and belongings in order.
The sizing of this item is 24 x 16 inch size, and it is placed on the back seat of the front two seats. It comes with multiple mesh pockets of all different sizes to accommodate everything from a tablet/ small computer, to water bottles, umbrellas, snacks, books/notebooks and more. It's also machine washable and water-proof.
Whether you're using this for children and their schoolwork while on your road trip, or you're using this for yourself to make most of the space in your car, this is a perfect car accessorie to include in our next road trip!
Ok, this is awesome! Talk about making the most out of your space. This is an ultra helpful and compact food tray that you can affix by placing it on the cup holder, extending the arm and opening the tray over your lap to enjoy your food on.
WHAT. So simple.
This nifty little road trip accessory can free up so much space and your hands trying to make sure that things aren't falling over, and all the jazz.
And by the looks of it, you can fit not only one, but two drinks per expandable tray, and it can also fit Hydroflask and Yeti sized water bottles.
This expandable tray can sustain 40 lbs. it can rotate 360 degrees, and the tray is even detachable if you need it to be.
Speaking of cleanliness on the road trip, have you ever gone to a restaurant and brought with you a handful of bunched up tissues, which end up remaining as such somewhere in the car? Yes, because same.
Getting a car accessory that can organize and neatly hold your tissues for those accidents is super helpful, especially one that attaches itself to the visor of your car. It's hands-free, organized, and you always know where to get a napkin in a rush!
This visor tissue holder is great because it's small and compact, yet fits in a lot of napkins for its size. It holds onto the visor of the car nicely, ensuring that the tissue holder won't come off as soon as you pull the tissue, and it's a minimalistic design, which is sure to fit in and blend in with you car's interior.
It's super easy to install, and just a lifesaver when you need napkins and you don't have to go searching through all your bags to find a random one by luck.
How many of you grab your car's insurance, registration, and other probably really important documentation and just have it stored in a paper envelope (probably the one where you got car insurance mailed in) and have that as your organization folder?
Getting a road trip accessory like this car registration and insurance folder (which is also super handy for everyday life) is so helpful to keep not only all your documents in one place, but to help keep them all at hand if you were to need them right away.
This car registration and insurance folder organizes all your car's important documents with these easy-to-see cards and document slips with plastic covering to help you easily glance at your documents to make sure they're all up to date.
Plus, it reduces clutter, and paper, and maximizes efficiency and organization, which are two important things to think about when thinking about the best road trip accessories.
Looking for a way to maximize your space even more, and you're looking for something that can make use of the space between the two front seats of the car for yourself or your guests? This car mesh organizer is for you.
Check out this car mesh organizer that has a 3-tier design, created to store everything from electronics, to snacks, umbrellas, and more.
It stretches 14 in. by 13 in. and also serves as a barrier between the front seats and the back. Perfect if you're traveling with pets.
It's a space-saving product that is very easy to install, take off, store, or wash, and customizable to fit all cars due to its size and stretchability. It's definitely a car organizer that shouldn't be missed when packing the best road trip accessories.
On the topic of maximizing space in your car, let's talk about keeping your car organized with the cleaning products and emergency tools needed while on the road.
If you're packing the car with food/snacks/beverages, clothes, blankets, and more, then you definitely want to have a space, or organization method that will help you keep your cleaning items/car tools separate from the rest of the items in your car.
This car trunk organizer is perfect for that, because it goes in the back seat of your car (mainly for bigger cars like vans and SUV's), it's made with durable material not easy to puncture through, it's compact, easy to install, and has many pockets of different sizes to include everything from jumper cables to emergency first-aid kits, and more.
Definitely remember to pack in all these essential road trip accessories/ car maintenance items, and also make sure to pack them efficiently in your car with this car trunk organizer.
Safety is very important, especially while you're on the road.
Packing in a first-aid kit in your road trip accessories is super important in order to keep yourself and those you're traveling with safe in case of an emergency.
Packing in this super compact first-aid kit that comes with 228 pieces, is a perfect additioni to your packing list, as it not only comes with 228 items from gauze, band-aids, antiseptic, but other medical grade tools.
It also comes neatly packaged in a waterproof carrying case that is easy to spot in the the items you're packing for your trip, which is important if you need it fast.
This first-aid kit comes with all the basics that you'd need to cover small cuts, burns, and/or bug bites, so definitely pack one in!
Another way to keep the quality of air in your car at 100, is to pack in a mini USB portable car humidifier, especially if you're road tripping in the winter.
What does a humidifier do? Essentially, a humidifier, as the name says, adds moisture to the air through vapor.
Many people purchase full-size humidifiers for their home in the winter, as sometimes the heater promotes dryness in the air, and in skin, throat, and more.
Carrying a little humidifier like this one is perfect as it can fit in your cup holder, and it can hold up to 6.8 fl. oz., and sprays around 1 fl. oz. per hour (can work for up to 9 hours). It's quiet, compact, and even has cool LED lights to add ambiance.
Add this little yet mighty important road trip accessory to your growing list, because you definitely do not want to be caught without one.
This little emergency keychain acts as a tool to help escape a car if for instance it went into a lake, or a ditch, and you need a quick escape route.
This tool helps you break glass, cut through seatbelts, and bust through stainless steel materials.
It's so small, compact (it fits on your keychain or on your rearview window), comes in multiple colors, and most important, it can be mega life saving in an emergency.
Definitely a tool you want to keep in mind when packing your road trip accessories.
Can't stop for a quick coffee?
Or maybe you're looking for an easy caffeine fix that is conveniently in your car?
Regardless of the circumstance, a cup of coffee has never been this close (literally at arms length) so if you're a coffee lover, this is the perfect item to pack in your list of car travel accessories.
This manual espresso maker (that's right, no batteries or power needed) is easy to use, as all it needs is ground coffee and hot water to operate in order to create a very decent cup of espresso.
Aside from the fact that this is a genius idea that actually works, it is also a compact machine that is easy to pack in and bust out when you're feeling like you need a coffee pick-me-up mid drive.
This items comes with the machine itself, built-in espresso cup and scoop.
Planning to spend a few nights in your car on your road trip?
Definitely don't go without this ultra-comfortable car mattress, complete with 2 air pillows.
This backseat car mattress has the dimensions of 56.4″L x 34.3″W x 17.7″T (after inflating), and comes with a pump to inflate the mattress, a storage bag.
Add more comfort to your car with a backseat mattress like this, whether you're traveling with pets, kids/teenagers, or other friends who want to stretch and lay down for a while on the road.
Taking adequate maintenance of your car is one of the best things to do before leaving on a road adventure, however to step it up a bit further and ensure better monitoring over your car's health on the road, consider getting a tire pressure monitor.
A tire-pressure monitor basically is a tool that helps car owners determine the level of air there is in each of the tires, which can be especially helpful to know after driving for a few hours.
Most car experts say that if the tire pressure drops below 25% of the car's manufacture recommendation, it is important to know so you can fill up your car's tires and continue on your way safely.
This tire pressure monitor is amazing for it's ability to not only advise drivers of low tire pressure, but to also avoid what else low tire pressure could mean, such as increased fuel consumption and tire wear and tear.
This machine is solar-powered and can be connected via USB, can be used in up to 4-6 tires, and more.
Catching up on your reading is a perfect idea to indulge in when you're road tripping with friends, and what better way to do it than with a Kindle E-Reader.
The amazing thing about a Kindle E-Reader is the battery life it has, as a single charge can last for a whole week, vs. other e-readers that may only last one hour.
That alone makes it an appealing indulgence in case you don't want to be constantly reserving the charger cable in the car.
Aside from that, the Kindle E-Reader mimicks paper tones, making it easier on the eyes for lengthy reading, it's a distraction free device, you can look up definitions, adjust text to your liking, and even translate words on the page, wihtout leaving your spot.
It's a very handy car accessory for your next road trip if you're not behind the wheel.
Read More: 10 Must-Read Travel Books You Need On Your Bookshelf
Read More: The Best Reading Apps To Read Your Favorite Travel Books (With Free Options!)
Traveling in the summer? One of the most annoying things to feel is like the A.C. isn't getting to you fast enough if you're sitting all the way in the back, and more if it's a packed car – yikes!
Getting these portable fans that can easily be placed behind a car seat, make it an ideal road trip accessory to keep your travelers cool.
Take advantage of the 2 rotable fans (can be rotated 360 degrees), crank it up or keep it low, and easy to use fan that can be used by conecting it to the cigarette power socket.
Another awesome use for it is to circulate air, and get rid of hot air, or de-fog the windows inside your car when it's raining.
Forge the electronics for a bit, and engage in some good old fashioned road trip games like Shotgun!
Created by the creators of the hilarious meme games "What Do You Meme" comes this fun game designed specifically for road tripping.
The way you play Shotgun is that one person will read off the instructions and play/answer based on the prompt. For instance, who can be the first to find a body of water, or who can get someone to wave to them?
Games like this one are such a fun way to take a break from technology, truly enjoy one another's company, and allow time to pass faster if you're not exactly driving through the most scenic of places, or you're trying to kill time before the next road stop.
So maybe you're going on a road trip in an older car that doesn't have bluetooth or an Aux cord – totally been there until I bought one of these amazing car gadgets called a wireless bluetooth fm transmitter.
Basically, this little road trip accessory will allow you to connect your phone to play your favorite music or podcast using local radio waves.
You can connect this device into the cigarette lighter port, change the station to the one that the device indicates, and jam out to your favorite playlist!
What's more, you can even answer phone calls on this device as long as your phone is connected, and you can also charge your phone with it. Win, win!
So you may have car power inverter to charge your phone, but it may still be a good idea to travel with a portable phone battery just in case.
I personally love and use this one by Bonai, and I really love it because it's sleek and not too clucky, it quickly charges my phone, and is powerful enough to charge my iPad as well.
It also has a light indicating how much power it has left in it, so you always know when to recharge it before a road trip.
Nowadays even if we don't want to admit it, we need our phones for many things from GPS to location services, so getting a portable phone battery is a good idea so you're never caught on low battery.
Work from home? What about work from car?
If you're planning on getting some work done while you're road tripping with friends or family, consider getting a foldable desk for extra comfort.
This backseat laptop desk is great and can easily be used either on the steering wheel (if you're taking a little roadside work stop) or the backseat.
It can hold up to a 15 in. laptop, and can easily fold up and down by zipping it, and it's made with easy to clean material.
It's a great road trip accessory if you have children as well, and they need to complete homework or want to watch a movie on their iPad.
One of the best road trip accessories are oftentimes supplies that will help keep your car clean during a long drive, and that is the case for this carpet spot remover that will help wipe down food/snack stains from your car.
Whether you're packing up the car with kids, teens, or your friends and their pets, prepare your seats and carpet by carrying in one of these handy little spot removers so you can wipe them clean sooner rather than later.
This spot remover promises to remove stains from grease, oil, ink, dirt, coffee or food, and it is child and pet safe. The solution is also water-based, and non-flammable, and leaves no odors behind.
Traveling with your shaggy best bud?
Pack in a pet hair removal bush, and keep your car clean as you pack in your road trip accessories.
This FURemover brush is made out of rubber, which makes it ideal to attract and contain all loose hairs, while also collecting other debris that seems to float around and collect during long road trips.
Other than being safe to use in your car interior, this brush is also safe to use on your pet to detangle their hair, and it's even useful to use to collect any lint from your clothes.
It's a powerful little tool, whether you're a pet owner who's planning to road trip with their pet, or you want something to collect lint and dust off of other surfaces. It's worth it for the low price too!
Ok, so you got the electricity port in your car working, and you got the power inverter, and the FM transmitter going. But now you got all these cables getting tangled around the gear shift and your drinks. How can you keep them organized?
These cable clip organizers are great to use to keep all the chords organized, especially if you have more than one phone or device charging.
These cable cords are easy to stick to your car, sturdy to stay on without having to constantly keep sticking them back on, and can be safely removed without leaving residue.
Keep your floors clean and easy to wipe off wet mud and debris with some durable rubber floor mats.
These rubber floor mats in specific are great because they are made with a type of rubber that can withstand extreme temperatures from scorching hot to subzero temps, without curling or cracking.
Additionally, they are customizable to the size you're looking for, and you can trim them with scissors, or keep them as is. They have strong grips on the bottom, making it easier for them not to slip around the car as people get in and out.
Get some new, durable rubber floor mats, or replace the ones you have depending on the type of road adventure you're going to get into.
Another super helpful car accessory for your next road trip should be a car cargo, especially if you really want to maxamize your space, clear our floor space for legroom, and dependng on the type of trip you're doing where you may need to pack blankets, mattresses, and other camping items.
This cargo box is perfect to carry sports gear like snowboards, and it's super easy to install and take off when needed.
It's dimensions are 88.4 x 20.7 x 15.9 inches, it weighs 33 pounds alone, and is made with extremely durable material.
File this one under one of the best and comfiest road trip accessories.
This amazing travel pillow is designed for maximum comfort on the road, from kids to adults.
It's unique "U" shape is ideal for kids and really anyone to sleep supported without feeling like you're bopping all over the place.
It's ultra-soft, and pretty soon, you're new favorite road trip accessory to travel with to rest up with.
Concluding thoughts on 37 must-have car accessories for your next road trip
I hope that this list of car accessories for your next road trip stirred up ideas and boosted your confidence when you're planning on hitting the road!
The truth is sometimes we can easily get caught up in the things we need to pack for ourselves, that we forget what car accessories to pack for the road trip itself, and as this list hopefully shows you, some of these car accessories can prove to be pretty helpful and time-saving.
In between road trips and commuting for work and transporting from one place to another, it's safe to say that our cars are basically an extension of our home.
We basically live in them, especially here in the U.S. where the majority of people own a car and prefer it more than public transportation (which isn't very good, to begin with, but we also don't have the best public transportation, so….).
And with so much time being spent in the car, road-tripping and commuting, cleanliness, and organization.
I hope these 37 car accessories helped guide your list of items to pack your car with for your next road trip!
To more travel moments like these, and safe commutes and road trips.
Like it? Pin it!