12 Amazing Long Weekend Getaways In The Midwest To Experience
This post may contain affiliate links meaning that when clicked on, I may receive a small commission at no cost to you. It's a great way to support bloggers and content creators, but if you'd like to know more, you can search "affiliate disclosure" in the search box to learn more.
Whether you're from the Midwest, and you're looking for long weekend getaways in the Midwest as a local, or you're from visiting from a different place, and you're exploring this part of the U.S. – this post is for you!
In this post, I will be sharing some of my favorite Midwestern destinations, what to see, do, and why it's worth a trip here if you haven't been yet.
Now before we get started, this is not meant to be an exhaustive list of all the places to visit and check out in the Midwest, if it was, this post would be extremely long.
Quick Disclaimer
The weekend getaway destinations that I mention in this post, are located in 3 out of the 12 states that make up the Midwest. The 3 states I mention here are not the entirety of the states that make up the Midwestern region of the U.S. There are a total of 12 states considered to be part of the Midwest, but here, I share these three because these are destinations I have been too, where I can give my personal recommendation.
Like it? Pin it!
What is the Midwest?
The "Old Northwest" "Great Plain States" "Great Lakes States" are all some of the names by which this part of the country, which is located geographically north-central between The Rockies and The Appalachian Mountains.
Colloquially known today as the Midwest, this part of the U.S. is physically known for its predominantly flat land, abundant lakes and rivers, as well as a lot of farming, agriculture such as corn, wheat, and barley production due to the weather, the soil, and land, and access to a variety of natural water sources.
As a result, you may hear that this part of the country is known by another name, "The Heartland," referring to the concentration of food production within this region and states, dispersed to the rest of the country. As a result, this part of the U.S. is known as the "Breadbasket of America" because of all of the wheat, barley, and grain cultivation.
The Midwest however is more than cornfields and flat land, as some of the things that you'll only find in the Midwest are a concentration of internationally recognized music festivals such as Lollapalooza in Chicago, IL. and Summerfest in Milwaukee, WI, more than 100 top-rated breweries and other well-known beer factories such as Bud Weiser in St. Louis, MO.
You'll also find the beauty and curiosity in the Great Lakes, with its picturesque beaches, islands, and dramatic limestone cliffs in Michigan's famous northwest peninsula, and you'll also explore a wide variety of other natural phenomena – from lush forests, swamps, dunes, beaches, wetlands, Midwestern mountains, and waterfalls (*Midwestern as in not as tall as other parts of the U.S. but definitely not flat).
So, if you're considering a trip to a destination within the U.S. don't hesitate on booking a trip to one of these destinations in the Midwest. You'll realize soon after that this part of the country is more than cornfields and tornadoes. Take a look at some of my personal favorite destinations to visit in the Midwest for a long weekend getaway.
Long Weekend Getaways In The Midwest: Illinois
Galena
This has to be one of my favorite long weekend getaways in Illinois. Galena is a Midwestern historic gem of a town that will take you back to the times of the early 1900's – from its beautiful red brick building facade decorating its main street, to its old-time shops selling amazing, local products, and its hilly surrounding natural landscapes, Galena is a place I always recommend people to visit.
It's the city break a lot of people want when they don't want to go to the suburbs or the south, and it's the perfect spot for some good, old fashion ice cream at the Great American Popcorn Company.
If you're into history and a few ghost stories tossed in, Galena will deliver that when you visit Ulysses S. Grant's home (former U.S. president and Civil War general), as well as visiting the historical DeSoto House that still remains in its old-time charm and decor.
Grab a sweet scoop of your favorite ice cream, and take a walk through its old streets, go up the steep steps and get amazing views of the town, the river, and the rolling green hills, and beyond!
What to see in Galena:
Galena History Museum
Blaum Bros. Distilling Co.
Galena Grant Park
South Main Street
Where to stay in Galena:
If you're looking for a classic and historic slice of Galena history, definitely consider staying at the DeSoto Hotel on Main Street. This hotel has been the scene and space for local gatherings since the 1900s, it even served as a venue for Ulysses S. Grant's presidential campaign, and Abraham Lincoln also once stayed here. You can also check out other trusty chain hotels that are a quick drive from Main Street here.
Springfield
The capital of Illinois, and a major city in southern Illinois – Springfield is the home to the state capital, as well as important historical buildings, monuments, and homes that belonged to none other than the 16th President of the U.S. – Abraham Lincoln, who lived a portion of his life in what is now modern-day Decatur and in Springfield, Illinois.
Today, you can take a tour of his home in Springfield where he lived from 1844-1861 just before becoming president. You can also roam the streets of this National Historic Site, which is very cool if you're into history. Walk along Old Abe's neighborhood, and marvel at the old homes, older buildings, and learn about their purpose back in the 1800s.
Additionally, you can take a tour of the Illinois Capital and take a free guided tour, where you can admire the architecture, stained glass interiors, and the beautifully ornate dome, as well as learn a bit about how state-level government works.
If you're looking for a natural escape, you can visit the Washington Park Botanical Gardens, or the Lincoln Memorial Garden and Nature Center, and so much more! I was surprised for some reason at how many parks and natural spots there are in Springfield, so don't think that it's all Abraham Lincoln history.
There is so much to see here, it's seriously worth a visit for a long weekend getaway if you're interested in learning more about Illinois history, as well as get to visit the second most popular city in Illinois, right after Chicago.
What to see in Springfield:
Abraham Lincoln Presidential Library and Museum
Lincoln Monument Association (Abraham Lincoln's Tomb)
Illinois State Museum
Dana Thompson House – A Frank Lloyd Wright Landmark
Where to stay in Springfield:
You'll more than likely end up finding a chain hotel such as DoubleTree, The Baymont, or a Super8. However, if you're wanting to elevate your experience a bit more, I recommend checking out some of their amazing bed and breakfasts such as Flagg Farmstead Bed and Breakfast, the rustic-chic Farm Bed and Breakfast, and other boutique hotels.
Chicago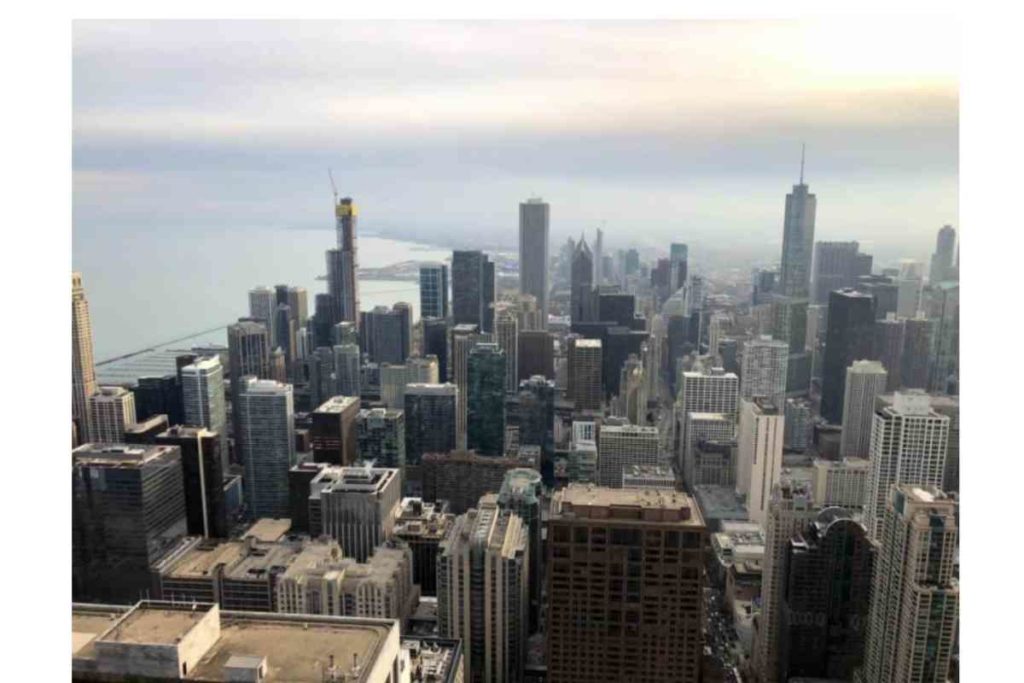 Chicago, arguably the most well-known city in all of the Midwest, is, of course, a place you'd want to check out if you're visiting the Midwest for the first time.
Even if you've been there countless times, like me, there are always new things to see, experience, and learn. Just the other day I was walking down Michigan Avenue and I looked closely at the Tribune Tower and saw that it had stones from all over the world embedded in its outer facade. Stones from the Great Pyramid of Giza in Egypt, a piece of the Great Wall of China, a piece of the Parthenon in Greece, all the way to to a piece of the House of Parliament in England, and a brick from Yale University (If you want to see all 149 stones embedded in this building, click here).
But this is just the cusp of the interesting quirks, stunning cityscapes, countless music festivals like Lollapalooza, the Chicago Jazz Festival, and food festivals such as the Taste of Chicago, and shopping on the Magnificent Mile, world-class dining, and so much more.
Chicago truly does have it all, and there's always something new to explore, other than its incredible, cultural, museums, and cultural events.
What see in Chicago:
Willis Tower
The Art Institute of Chicago
The Culture
Navy Pier
Magnificent Mile (Michigan Ave.)
The Gold Coast for some beautiful homes
Shedd Aquarium
Cloud Gate (The Bean)
Garfield Park Conservatory
Promontory Point (man-made island)
Where to stay in Chicago:
You'll find countless options when it comes to hotels in Chicago fit for every budget, from staying at the ritzy LondonHouse with amazing views of downtown Chicago and the river, and The Drake Hotel where they serve amazing High Tea, to casual hotels such as The Hampton Inn and Homewood Suites also in downtown. If it's your first time visiting, I recommend staying somewhere near the River North area, as it's surrounded by amazing restaurants such as one of my favorites, Xoco, and many amazing coffee pastry shops like Firecracker Donuts (so good!) and so much more! Plus it's not far from the main attractions like the Art Institute, and the Bean.
Long Weekend In The Midwest: Wisconsin
Door County
Door County is THE perfect long weekend getaway to experience in the Midwest because it's got it all – great food, amazing local culture, breathtaking nature views, and literally something for everyone to enjoy.
If you look at a map of Wisconsin, just so you get an idea of the location of Door County, it's the little strip of land on the east side of the state.
Wisconsin's picturesque peninsula, which is oftentimes referred to as the Cape Cod of the Midwest, is truly some of the best scenery in the Midwest – so make sure to stop by here at any point if you come by this part of the States.
From apple picking in the fall and cherry-picking in the summer, to their famous Fish Boil celebration which is a tradition where fishermen catch local fish and then boil it in a big kettle pot with potatoes and onions which gets served on Wednesdays, Fridays, Saturdays, and Sundays. It's a tradition that began with the Scandinavian people in the 1800s that helped them feed themselves and their neighbors.
Additionally, there's an abundance of state parks, camping grounds, trails, zip lines, lighthouses to see, water sports to enjoy, beaches to sit and watch the stunning sunset, and more. I've been going there for 10 years or so, and there's always something so calming and beautiful I experience each time I go.
What to see in Door County:
Visit Peninsula State Park
Take a tour of the many lighthouses
Potawami State Park
Take a ferry to Washington Island
Check out the NEW and IMPROVED Eagle Tower (inside Peninsula State Park)
The Ridges Sanctuary
The coastal byway
Where to stay in Door County:
Something I really love about Door County is the emphasis on locally-owned shops and businesses, including hotel lodging and accommodations. In Door County, you will find an abundance of locally owned hotels such as The Inn at Little Sister Hill in Sister Bay, and High Point Inn in Ephraim, an abundance of hotels inspired by the Scandinavian community that made Door County their home a long time ago, such as the Nordic Lodge, or Sister Bay's newest hotel, The Dörr Hotel.
Lake Geneva
A common summer destination for the wealthy people of the Midwest, especially from Chicago back in the day, is today a favorite summer destination for travelers from the Midwest and beyond.
For its picturesque trails around the lake, and its beautiful mansions from the Gilded Age and quaint bed and breakfasts, to the abundance of restaurants, ice cream shops, and bars, and so much more! Lake Geneva is less than 5 hours away from big cities like Chicago, and Milwaukee, therefore it is a popular place that tends to get the majority of its crowds in the summer.
Because of its classic flair and its beautiful views of the lake, Lake Geneva is oftentimes a Midwest romantic getaway for couples wanting a break from the day-to-day routine.
However, if you have family, be rest assured that there are also many activities for children and teens as well.
One of my favorite things to do here is to unwind and take in all the lake views on the Lake Geneva Shore Path.
What to do in Lake Geneva:
Visit the Geneva Lake Museum
Explore Downtown Lake Geneva
Lake Geneva Shore Path
Riviera Beach
Visit Big Food Beach State Park
Geneva Lake
Where to stay in Lake Geneva:
While you're visiting your getaway to Lake Geneva, you'll find a good variety of hotels such as Holiday Inn and the Fairfield Inn as well as boutique and smaller hotels such as Mill Creek Hotel, and The Ridge Hotel. There's something for everyone, no matter if you're traveling with family or with friends.
Milwaukee
Milwaukee is the perfect city escape for a long weekend in the Midwest, whether it's a getaway for families or for couples – it has it all for a relatively smaller city and a less hectic vibe than Chicago.
If you're looking for culture, music, beer, amazing food options, don't forget about this city! Take a walk along Lake Michigan, pack a lunch and head to the beach on a hot summer day, or check out the Calatrava Art Museum, arguably Milwaukee's most iconic building, which moves its wings twice a day – in the morning to greet the guests and at night to bid farewell for the evening. Which other museums actually greet you like that??
If you're up for the walk, from the city center of Milwaukee, walk north towards the village of Whitefish Bay, and marvel at the beautiful mansions along Lake Michigan, and check out the impressive scenic views of Lake Michigan from Atwater Park.
Things to see in Milwaukee:
Calatrava Art Museum
Pabst Mansion
Milwaukee Public Museum
Mitchell Park Horticultural Conservatory
Lakefront Brewery
Discovery World Museum
Where to stay in Milwaukee:
In downtown Milwaukee, you'll find all sorts of different and main chain hotel brands such as the Hyatt and the Holiday Inn, but you will also find amazing local hotels that pay homage to the city of Milwaukee and the state's cultural influencees, and what it's known for, such as The Brewhouse Inn and Suites, Potawatomi Hotel and Casino, Dubble Dutch Hotel, and other amazing options!
Long Weekend Getaways In The Midwest: Michigan
South Haven
A common weekend getaway in the Midwest, especially for people in Chicago is South Haven, in Michigan. It is a beach town that is located on Michigans west coast, which offers beautiful beach views of Lake Michigan, where you can also explore the nearby sand dunes with stunning contrasts to the beach, and so much more!
South Haven is definitely a place where people go for family getaways as well as affordable romantic escapes, especially as it's less than a 5-hour drive from Illinois and other surrounding places, to experience a slice of that Pure Michigan perfection.
What to see in South Haven:
South Haven Center for the Arts
North Beach
South Haven Lighthouse
Van Buren State Park
Where to stay in South Haven:
Everything from long-term vacation rentals in the summer, to chain hotels like Comfort Suites, and Hampton Inn South Haven for families, and other options such as Inn at the Park, Lake Bluff Inn, and Suites, Carriage House at the Harbor. There truly is a lot of options for all travelers, budgets, travel style, and duration.
Grand Haven
If you've at all Googled places in Michigan to visit, you've most likely seen Grand Haven and its iconic boardwalk that leads to a red lighthouse at the end, where people walk to at the end of a wonderful day at the beach, to take in the stunning sunsets and purple/pink skies.
It's similar to South Haven in the name, but when Googling exactly what the difference is between both beach towns, I found that Grand Haven is known to have more historical museums, public art displays around town, and generally, it has more of an artsy vibe. If you're into art and beach town vibes – then this is your Midwestern getaway!
What to see in Grand Haven:
Grand Haven State Park
Grand Haven South Pier Inner Light
Grand Haven Musical Fountain
PJ Hoffmaster State Park
Tri-Cities Historical Museum
Where to stay in Grand Haven:
Grand Haven has quite the mix of hotels, bed and breakfast options, and vacation rentals. If you're on a getaway with family, options like The Holiday Inn or a cute local hotel such as the Looking Glass Beachfront Inn are an option. Other beautiful options are Harbor House Inn and Grand Haven Condos.
St. Joseph
Another beautiful beach town on Michigan's west side, overlooking Lake Michigan – literally you have to walk down steps to get to the beach. Self-proclaimed "Riviera of the Midwest" – St. Joseph is a stretch of small towns near/next to Lake Michigan, each with amazing little beach town vibes that are open, and welcoming to visitors from near and far, whether you're going with your best friends, or you family – it's definitely worth a visit here to admire from a different point, Lake Michigan.
What to do in St. Joseph:
Visit North Pier lighthouse
Krasl Art Center
Silver Beach
Walk along the cute beachtown
Tiscornia Park
Where to stay in St. Joseph:
In St. Joseph, you can find trusty hotel chains like the Hilton and the Courtyard, but there has recently been a lot of development and new locally owned hotels such as the South Cliff Inn, The Boulevard Inn and Bistro, and the Duncan House Bed and Breakfast. So many options and places to experience, and get pretty impressive views of Lake Michigan, especially at sunset.
Saugatuck
A beautiful little beach town, tucked a little north of the Haven Towns, is known for its amazing and picturesque views of the lake, beautiful art scene, quaint restaurants, and cute downtown area. If you go up here, I recommend grabbing lunch at Boardwalk, they have amazing homemade sandwiches and so many great treats for the perfect weekend getaway! It's the perfect little town to escape to, sit by the park and admire people watching and nature.
Things to see in Saugatuck:
Oval Beach
Saugatuck State Dune Parks
Saugatuck Center for the Arts
Wall Street Galleries
Mount Baldhead
Where to stay in Saugatuck:
When coming to Saugatuck, you'll more than likely find more locally owned hotels, cottages, vacation rentals, and bed and breakfasts, some of which are extremely adorable looking, and perfect for whatever travel occasion you're visiting for. Hotels such as Hidden Gardens Cottages and Suites, Lakeshore Resorts, and Wickwood Inn – so many choices these are just the cusp of the list!
Mackinac Island
By far, other than Door County and Galena, probably one of my other favorite Midwest getaways I've been on has been Mackinac Island, on the stunning northern peninsula of Michigan.
This island is truly one to see at least once in your life, the 30 ish minute ferry takes you through the iconic and very Midwestern Great Lakes, to arrive at this beautiful island where there are no cars allowed, everyone either bikes, walks, or takes a horse carriage – yes this is how the mailman even, rides!
For those who may not know, Mackinac Island is the fudge capital of the world – so if you're a fudge lover, there you go!
Take a walk around the beautiful Main Street, walk around the neighborhood, and admire the beautiful island homes, the astounding views of the lake from the island, the Mackinac Bridge (which resembles the Golden Gate in my opinion…) and so much more!
Things to see in Mackinac Island:
The beautiful Grand Hotel
The iconic Arch Rock
Sugar Loaf Rock
Fort Holmes
Marquette Park
Main Street
Where to stay in Mackinac Island:
On the island, you'll more than likely stay at a local hotel (no chain hotels here!) some of which offer breakfast, activities, and of course, stunning views of the island whether you want to stay in the Main Street, or a little more secluded where you can almost hear the splashing of the water on the island (depending on the season you visit). Notable hotels include The Mackinac House, Hotel Iroquois, Island House Hotel, and of course, The Grand Hotel (pictured above).
Long Weekend Getaway In The Midwest: Missouri
St. Louis
St. Louis is a city I have been to a few times already, and each time, I find something new and interesting to appreciate. The Arch for starters, which when originally constructed in 1963, is a symbol of the Westward Expansion, and a gateway to the West. Below the arch, you'll find a lot of greenery, a museum, and steps to go on a boat tour along the Mississippi which passes by Missouri and Illinois border.
Other than the iconic Arch, visiting its neighborhoods outside the city, you'll see a lot of French influence from town names like Ladue, Frontenac, and even the city's name, St. Louis coming from French origins (Missouri was part of New France back in the day…).
So it's very interesting to drive around and explore French influence still prominent to this day, and while you're there, check out top sights like Forest Park which was the setting of the Louisiana Purchase of 1904, and the Summer Olympics in the same year.
What to see in St. Louis:
City Museum
The Gateway Arch National Park
St. Louis Zoo
Missouri Botanical Gardens
Cathedral Basilica of St. Louis
Bud Weiser Brewery
Where to stay in St. Louis:
The perk of visiting a city is that you will find an abundance of hotel options, some local chains include The Drury Inn Hotel, as well as Holiday Inn, Hampton Inn Suites, and other local accommodations such as St. Louis Station Hotel, The Chesire, and the famous Angad Arts Hotel.
Concluding thoughts
I want to repeat that this isn't all that the Midwest has to offer, I only grazed the depth of beauty that you can experience here – so I hope that this post simply inspired you to look deeper at this region of the U.S.
Since moving to the Midwest from California, I've been lucky enough to travel around extensively throughout the Midwest, not once, but a couple of times and get a better idea of what this part of the U.S. offers.
Each region of the U.S. has its charm, and I definitely noticed it back here too and appreciate it more since I started to travel to different corners of the world.
Where else in the world could I get Deep Dish Pizza, cheese curds, and spend a day at one of the most magnificent lakes in the world?
None other than in the Great Midwest. I hope this list inspired your future travels, and that you can make it out here one day.
And if you're from the Midwest – I hope that this list just re-inspired you to go outside and explore your literal backyard.
It's all beautiful.
To more travel moments like these ✨
Like it? Pin it!