28 Of The Best Fall Festivals in Illinois You Need To Visit
This post may contain affiliate links meaning that when clicked on, I may receive a small commission at no cost to you. It's a great way to support bloggers and content creators, but if you'd like to know more, you can search "affiliate disclosure" in the search box to learn more.
It's fall festival season in Illinois, time to explore the fun and unique ways to celebrate this beautiful season.
The fall season is in the air, and with a new season comes a new wave of fall festivals in Illinois that we Illinoians (and visitors) get to enjoy and experience!
I don't know about you, but the fall season is one of my absolute favorite times of the year to experience in Illinois and the Midwest as a whole. It's such a cozy, warm, vibe – pumpkin patches, hot apple cider and other warm beverages, comfort warm foods, crunchy leaves, and other orange and red leaves swirling around in the air – I repeat – A VIBE.
Now if you're like me, then you know that there are tons of fall festivals in Illinois and harvest activities (in and out of the city) but sometimes you just don't know where to start, or which ones may catch your eye best (like, is it worth driving the extra hour or so to some of the ones on these lists?).
Well, not to worry because in this post, I am going to share some of the most fun, fall lover favorites, and beautiful fall activities and harvest festivals to visit in Illinois!
And after a year of virtual events, this year things are looking a bit more open as the in-person events are returning with precautions and safety measures. Definitely check out what they are if you're concerned about them, and make your own decision if you'd like to attend one of these events.
Let's get to the list of fall festivals in Illinois that you must visit!
Like it? Pin it!
The Best Fall Festivals in Illinois You Need To Check out
Chicago/ Downtown Fall Festivals
Jack's Pumpkin Pop Up
Probably one of the most popular and newer Chicago fall festivals is Jacks' Pumpkin Pop-Up, and a visit there will show you exactly why.
Get lost in Chicago's largest corn maze, while sipping on your favorite beverages, without having to leave the city! Jack's Pumpkin Pop Up is as the name says, a pop-up that lasts for one month only (September 23rd – October 31st) and is suitable for all ages and groups – from families to friend groups, and office outings. Other experiences include ax throwing, a fun pumpkin patch, carnival games, fortune tellers, food trucks, and even the best Instagram photo apps to share on your socials.
Admission: $25.00 for a general admission ticket, prices will vary as they offer bundle ticket options which include general admission and either 1 drink, or a pumpkin at the pumpkin patch, or an activity such as ax throwing.
Dates: September 23rd – October 31st
Address: 1465 N Elston Ave, Chicago, IL 60642
Oktoberfest Chicago
This is one of the notable fall festivals in Illinois due to the number of people with German heritage in Chicago, and Illinois.
Step into Bavarian Chicago, and try traditional homemade food such as bratwurst and pretzels, while enjoying live music, and of course, tasting the different varieties of Sam Adams beers.
Of course, you couldn't experience Oktoberfest without live Polka music. Join this Chicago tradition and favorite fall festival the weekend of September 25-27.
Admission: Friday-$10, Saturday-$10, Sunday-$5, and free admission to Military + one guest.
Dates: September 25th – 27th
Address: St. Alphonsus Church – 1429 W. Wellington Chicago, IL 60657
Lincoln Square Ravenswood Apple Fest
Join the fall festivities in Lincoln Square at Lincoln Square Ravenswood Apple Fest, and long-standing tradition with the neighbors, where you can enjoy some local arts and craft show, live music, family activities, delicious fall favorite foods such as cider and apple baked goods.
Admission: FREE
Dates: The weekend of October 2nd & October 3rd
Address: Lincoln Avenue between Lawrence and Wilson
Chicago Wine Festival
Get in on Chicago's ultimate wine festival, and visit Chicago Wine Fest! Go and sample some classic favorite wines, and find your new favorite while you're at it, while enjoying the exquisite food pairing and learning about what makes a good food and wine pairing, so you can throw a wine soirée of your own and impress all your friends.
This event usually has live music, but unfortunately due to the current situation, it will not be a part of this year's celebration. However, it's still going to be one of the nicest festivals to attend in town, so definitely consider it if you're a lover of all things wine.
Admission: The admission price varies between $40.00-$65.00 because there are two types of tickets available, and according to their website, these are the differences: "VIP tickets get you in an extra hour earlier than GA (General Admission) tickets, and you get to continue to enjoy the event during the GA session. That's the only difference between the two ticket choices per Session." Each session is 3 hours.
Dates: October 2nd
Address: Lincoln Park Zoo – 2400 N Cannon Drive, Chicago, IL 60614
Northhalsted (Boystown) Halloween Parade
Get creative, and come dressed in your best costume at the Northalsted (Boystown) Halloween Parade and festival! If you're more of the observing type and don't want to dress up in costume, you can also just come and watch and enjoy everyone else's costume creativity, as it's an event that is open to all ages. If your costume is the winner, you can win up to $500 for first place, and $250 for second in the following categories: scary, drag, creative, youth, cosplay, and in group costumes of 6 or more!
Admission: FREE
Dates: October 31st
Address: TBD (I'll make sure to post it when they share the address!)
Dia de los Muertos Exhibits and Celebrations, National Museum of Mexican Art
Come learn about the cultural significance of el Dia de los Muertos, which is not Mexican Halloween, but rather a celebration of life and death of those who have passed, and remembering them by creating altars in their honor and memory with photos of the deceased person, their favorite food, and other objects that carry symbolism for that individual. The National Museum of Mexican Art does an amazing job of teaching the community more about this cultural experience, and it's a great activity for family learning, friends, and people of all ages.
Admission: FREE
Dates: October 30th – November 1st
Address: 1852 W. 19th street, Chicago, IL 60608
Take a fall time boat tour
You can never go wrong with a cool boat tour on Lake Michigan while admiring the city from the water during this magical season. There may not be pumpkin patches, corn maze, or a fall parade on board, however, it's still a beautiful experience full of sights, amazing food, sunsets, maybe even live music. Just don't forget to bring a warm jacket or blankets!
Some Chicagoan favorite boat tours:
Admission: Varies from boat to boat tour, some starting at $20 per adult.
Dates: Until around mid-November
Address: Many depart from Navy Pier or The Chicago Riverwalk
Go on a ghost tour of the city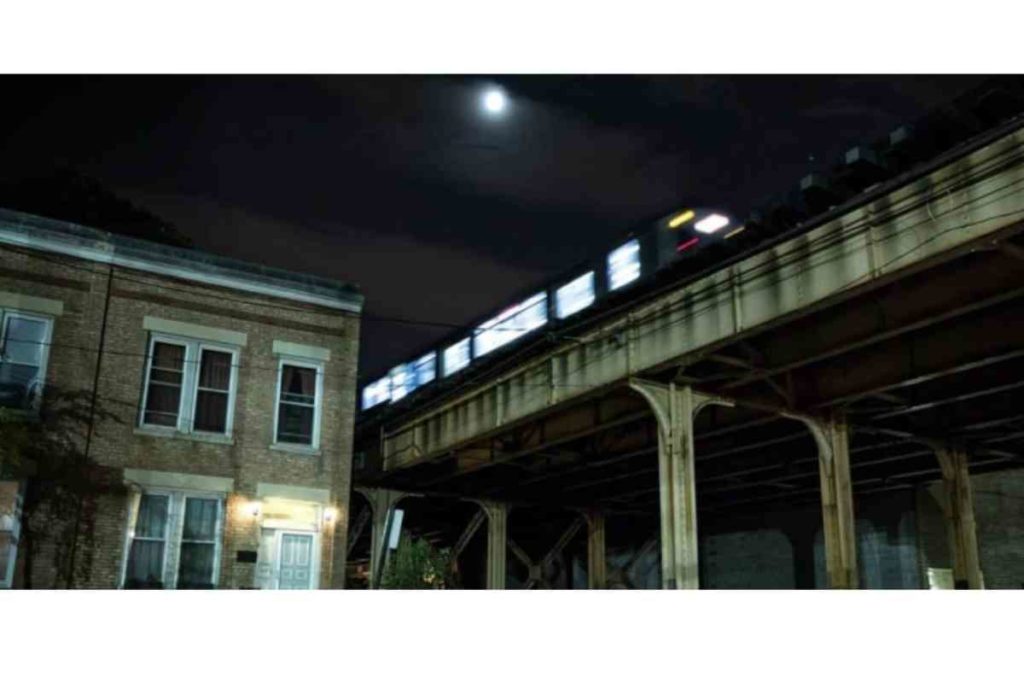 From the Valentines Day Massacre, The Chicago Fire, and notorious real-life characters such as the Devil in the White City (H.H. Holmes), and Al Capone – Chicago has a couple of ghost stories and creepy sites to share that are definitely a cool and unique way to experience the city – whether you're a visitor or you're a local.
If you're looking to escape the pumpkin patches, pumpkin carving, and arts festival, a ghost tour is definitely something you should consider!
Choose anything from a hop-on hop-off tour experience, a walking tour, or a self-guided tour if you dare to wander around in search of the souls that have passed, and their stories and sites across the city. Personally, ghost tours are one of my favorite activities to do in new cities, as it's truly a cool angle to view and learn about a city, so this is your sign if you're wondering what you can do in Chicago that is a little different.
Some of the most popular ghost tours in Chicago:
Admission: Prices vary, but usually start around $20 depending on the tour that you choose
Dates: Until October 31st
Address: Pick-up locations vary depending on the tour company, but most will usually be a meeting point within the city.
Northern Suburb Fall Festivals
Great Highwood Pumpkin Fest
The Great Highwood Pumpkin Festival has been running for 11 years, and this year is coming back with a few restrictions.
Come to the North Shore area, and enjoy live music, admire the wall of jack-o-lanterns illuminating the street and the night, and grab a pumpkin yourself and join the pumpkin carving activities!
This fall festival is ideal for a night out for family fun, and friends, as you walk the streets, gazing at the local arts and crafts, and seasonal treats and food options. It's an event that involves the whole town, so you'll definitely get that small town, charming vibe.
Make the short trip up to Highwood and enjoy it yourself!
Admission: FREE
Dates: October 8th-10th
Address: Sheridan Road, Highwood
Johnny Appleseed Festival
If you enjoy fall festivals that include apple scavenger hunts, art festivals and craft shows, and scarecrow decorating contests, then you'll want to make the trip to Johnny Appleseed festival where you can get that, and much more fall fun! Enjoy live music, seasonal food, and drinks, a fun plan for family and friends.
Admission: $1 per person, and $10 if you want to buy a wristband for your child to enjoy the carnival rides and games.
Date: September 25th
Address: Downtown Crystal Lake, 25 W. Crystal Lake Avenue, Crystal Lake, IL.
Pumpkin Smash and Composting
If at the end of the fall festivals, and Halloween fun you're thinking about what you can possibly do with your pumpkins, then look no further than this awesome idea of bringing your pumpkins and old jack-o-lanterns to Glencoe for their annual Pumpkin Smash and Composting. Maybe this counts or doesn't count as a corn maze-music festival-pumpkin carving-fair, but it can definitely be fun to literally smash your pumpkin to pieces, and better yet, leave feeling better they will be turned into compost if you don't need them. Bring your giant pumpkin, and end the harvest season with a bang!
Admission: Any pumpkins you bring (AKA free)
Date: November 6th
Address: Glencoe Community Garden, 380 Old Green Bay Road, Glencoe, IL.
Homestead Orchards
What is a fall festival without an apple festival at a U-Pick apple orchard?? Visit one of Woodstock's traditional apple orchards that's been serving up apples and harvest festival fun for generations, and counting! Enjoy some apple picking, step inside the 1880's style barn that is now a gift store, and shop locally produced honey from actual beekeepers, and homemade baked goods that just taste better this time of year. This orchard has something for everyone, and it's one not to miss in Woodstock.
Admission: Free to enter, apples and honey and other products are sold.
Dates: September 25th-October 31st
Address: 11802 Charles Rd. Woodstock, IL
Krolls' Harvest Farm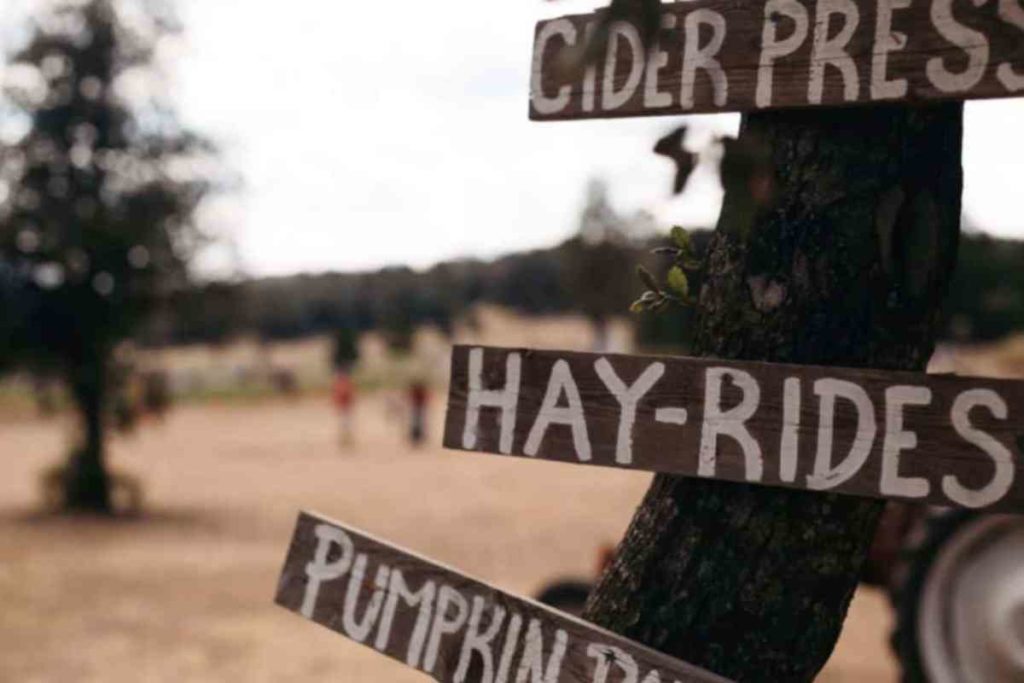 Join in on some pumpkin patch fun, movie nights, food trucks, and live music at Kroll's Fall Harvest Farm.
For 27 years, Kroll's farm in Waukegan has been putting up this harvest festival for its community, topped with a corn maze game, a petting zoo for children, hayrides, and pumpkin patch fun!
It's been named one of America's Best Pumpkin Farms by Travel and Leisure, as well as other recognitions, so maybe it's time to take a trip here and experience it yourself! Surely it's one of the best fall festivals in Illinois that you must visit!
Admission: $10 per person (includes a hayride, corn maze, and petting zoo)
Dates: September 18th – October 31st
Address: 13236 Townline Rd, Waukegan, IL 60087
Richardson Adventure Farm
Ok, this place is AMAZING. When you are the home to the world's largest corn maze, you offer zip lining off a 50′ observation tower, Orbiting (the rides where you get inside a ball and roll down a hill), wagon rides and slides, a pumpkin patch and so much more – how can you not go??
The Richardson Adventure Farm has so much to offer, and it is probably the biggest fall festival on this list with so much to do, see, eat, and experience yourself. It's perfect for family fun, friend fun, adult fun – for everyone. Make sure to set aside a few hours to see it all!
Admission: September adult prices: $18.00 per adult and $15.00 per child/ October adult price: $22.00 per adult and $18.00 per child
Dates: All of September through October
Address: 909 English Prairie Rd. Spring Grove, IL 60081
Six Flags Fright Fest
I can't finish off the list without mentioning one of the most popular fall festivals in Illinois – Six Flags.
Get chased around a theme park by ghouls and monsters, enter haunted houses, scare zones, and rides, and also enjoy live shows and entertainment perfect for families and friends. If you want to bring your family, the ghouls are asleep during the day, so you can rest assured that no one is going to come up and scare you or your kids, but if you're looking for something scarier, definitely attend later in the evening, starting 8 pm, which is when the monsters start waking up from their day slumber. It's fun, scary, and definitely worth the trip if you live further away.
Admission: as low as $29.99 if you buy the Fright Pass online, otherwise $39.99 for the day activities
Dates: September 18th through October 31st
Address: 1 Great America Pkwy, Gurnee, IL 60031
Long Grove Apple Fest
All apple varieties, in different ways. From baked, fried, cooked, or even air fried (Jk jk kinda…).
A visit to Long Grove's historic downtown and home to their famous Apple Festival will definitely give your palette all the apple varieties, fun carnival rides, as well as live music, and other fun fall festival activities!
It's a family fun and friends event, so don't miss out, especially if apple is your favorite fruit!
Admission: $5 per ticket, children under 6 are free
Dates: September 24th-26th
Address: 308 Old McHenry Rd. Long Grove, IL.
Fall Bulb Festival and Night of the 1,000 Jack-O-Lanterns, Chicago Botanic Garden
The Chicago Botanic Garden is one of the top places to visit during every season for its botanical displays, and therefore it's definitely one home to one of the best fall festivals in Illinois that you have to check out!
The Chicago Botanic Garden has heaps of different activities and family fun events throughout October, some of their most popular being Fall Bulb Festival and Night of the 1,000 Jack-O-Lanterns. The 1,000 Jack-O-Lanterns event is an event that usually sells out pretty quickly, so you may or may not be able to get tickets depending on when you're reading this post, but it's definitely a fall festivity to have on your radar for the next year! Experience 1,000 hand-carved pumpkins, carved by amazing pumpkin carving professionals, seasonal food and drinks, and so much more!
Admission: adult ticket $16/$18, children 3-12 years old tickets $12/$14 plus $20 parking
Dates: October 13th-17th and 20th-24th
Address: 1000 Lake Cook Road Glencoe, IL 60022
Western Suburb Fall Festivals
Scarecrow Festival
Come see the most creatively designed scarecrows and vote on your favorite at St. Charles's Scarecrow Festival! This special event that has been a hometown staple for 36 years, comes back this year in person for visitors and locals to enjoy live music, family fun games and a peek into some local shopping in St. Charles's cute downtown shops. Don't skip out on the arts festival and craft show that displays some local talent and creativity, if you visit as well!
Admission: FREE
Dates: October 8th-10th
Address: Downtown St. Charles, IL.
Midway Village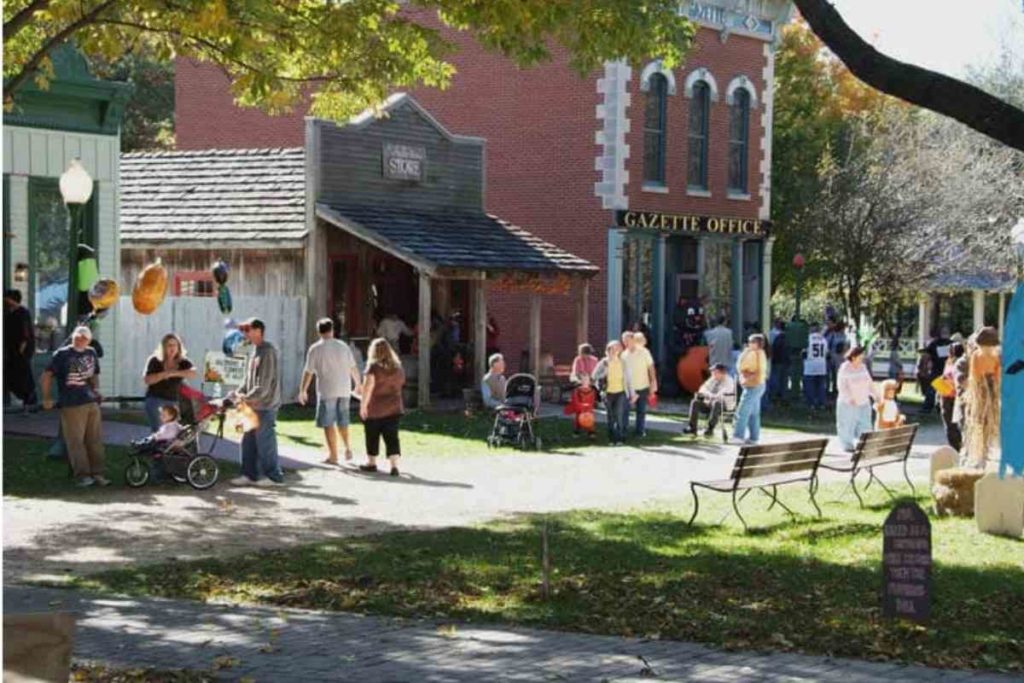 This one's for all the history buffs and lovers and those interested in Victorian-style architecture and life.
Midway Village is a living history museum that offers a literal step into Rockford's history, where they get to experience a little bit of what life was like in the VIctorian-era in Illinois, see artifacts from the times, and enjoy reenactments.
In October, come visit to enjoy some Victorian-style Halloween and fall festival fun such as pumpkin carving activities, get a tour of the Victorian village, and get ghost stories from the time.
It's a fun, and different type of harvest festival, but one that is sure to be fun!
Admission: $6 per ticket
Dates: October 23rd
Address: Midway Village – 6799 Guilford Road, Rockford, IL
Geneva Kite Festival
Are you a lover of kites and like to see all sorts of them flying through the sky? Then you won't want to miss Geneva's Kite Festival.
Even though this fall festival has passed at the time I post this post, I still wanted to include it so that you can make plans to attend next year if you would like!
Take a small break from the pumpkin carving and the corn maze to look up and gaze at the kites decorating the sky.
If you have children, this event is definitely suited for them, which will definitely make this a family fun outing if you're looking for different things to do with kids.
Admission: FREE
Dates: September 6th
Address: Peck Farm Park – 4038 Kaneville Rd. Geneva, IL.
Galena Oktoberfest
Galena is an Illinois small-town gem that if you can, definitely try to visit at least once.
Especially in the fall, as the rolling hills and abundant fall foilage just give the town a beautiful fall look. If you do visit in the fall, make sure to visit during Galena's Oktoberfest, which is a celebration of the fall harvest with Polka music, German-style food, and beer, live music, including New Glarus Alphorners playing the long wooden horns.
It's a fun event that you can enjoy, while you also take in the historic beauty of Galena during this pretty season.
Admission: From $5.00 per ticket
Dates: October 2nd
Address: 91 Bouthillier Street, Galena, IL. 61036
Southern Suburb Fall Festivals:
Giant City State Park
Not exactly a traditional type of fall festival in Illinois to visit, but definitely a harvest activity to consider!
Take a trip down south to Giant City State Park, where you can take in the ultimate natural scenery that Illinois has to offer this time of year, is arguably one of the most beautiful state parks in the state.
Enjoy a nice hike through the woods, take in the views and sights, and take in the neighboring town sights from above or as you drive in. Take in the harvest season with magnificent views of this park – you won't regret it!
Admission: FREE
Dates: September-October and even November to see the fall foliage
Address: 235 Giant City Rd, Makanda, IL 62958
Take a drive around Illinois famous Scenic Great River Road
Another non-traditional fall festival in Illinois to go to, but one to experience!
Make it a road trip from visiting Giant City State Park, and visit Illinois' famous Great River Road, and bask in the abundance of fall foliage, autumn vibes while you drive alongside the Mississippi Road, which goes all the way up to Minnesota. You definitely don't have to go all the way through, as it's a pretty long byway, but it's definitely a sight to see. It is considered a national scenic byway, and to many, it's considered America's most beautiful, longest, and most important scenic byway.
Admission: FREE
Dates: September-October for fall views
Heap's Haunted Corn Maze
In for a little corn maze fun? Visit Heap's Haunted Corn Maze for moon hayrides, haunted moonlight hayride, and flashlight maze.
A very midwestern way to bring in the autumn season with these fall festival ideas. It's definitely a fun idea for any fall weekend!
Admission: prices vary between $6.oo-$18.00 depending on what activity you want to do
Dates: Fridays, Saturdays, and Sundays 10/10-10/31
Address: 4853 US-52, Minooka, IL 60447
Candlelight Tour of New Salem
In for a little candlelit tour around a tour of Lincoln's New Salem?
If a live museum with homes from Abraham Lincoln's era, with people wearing clothing from the times, sharing historical facts and spooky stories, definitely check out this amazing experience for history buffs and spooky seekers. Seasonal favorite foods like gingerbread cookies and cider will be served, as well as other local favorites when you step a bit into downtown Springfield.
It's the perfect fall festival in Illinois to visit if you are looking for a little break from the pumpkin patches, live music, and petting zoos if you're looking for something a bit spookier.
Admission: FREE
Dates: October 5th-7th and 23rd
Address: 15588 History Lane Petersburg IL 62675
Centralia Halloween Parade and Fall Festival
A fun day full of activities for family fun, friends, and people of all ages to enjoy everything from a Halloween parade, delicious food, marching bands, and floats.
It's definitely a fun activity for your family to attend if you're looking for an activity for all to enjoy.
Admission: FREE
Dates: October 30th
Address: Poplar Street in Downtown Centralia, Illinois
Prairie Land Heritage Museum Fall Festival and Steam Show
In for a fall festival in Illinois that showcases and celebrates tractors, small engines, and steam engines, while also offering entertainment like live music, carnival rides, delicious food, and other fun fall activities? Then definitely include the Prairie Land Heritage Museum Fall Festival and Steam Show as a potential destination/fall activity to include in your plans, because this is sure to offer a good time!
Admission: FREE
Dates: September 24, 25 & 25, 2021
Address: 1003 West Michigan, Jacksonville, Illinois 62650
Oglesby Harvest Fest
Near one of Illinois' famous state parks, Starved Rock, Harvest Fest is a fall festival that offers its visitors and families face painting, a magician, petting zoo, pony rides, delicious food, and a costume parade for all to enjoy. While you're there, take a mini hike at Starved Rock and enjoy the fall foliage and waterfalls.
Admission: $3 per adult ticket/ $10 per family
Dates: October 16th
Address: Downtown Oglesby
What are some of your favorite fall festivals in Illinois?
As you can see, there are DOZENS of fall activities and fall festivals in Illinois to attend, whether you're a local who is looking to make some weekend plans this fall, or a visitor wanting to experience an Illinois autumn.
I couldn't possibly fit ALL of the fall activities and harvest festivals in one post, but this is a good starting point if you're starting to plan out your fall events calendar.
Let me know down below what your favorite fall activities or unique harvest festivals that you enjoy in your city are, and share more ideas on how to enjoy the fall time in Illinois if you would like that I didn't mention in this post.
See you at the pumpkin patch!
To more travel moments like these,
Like it? Pin it!