7 Unique Gifts For The Traveling Woman [Updated 2022]
This post may contain affiliate links meaning that when clicked on, I may receive a small commission at no cost to you. It's a great way to support bloggers and content creators, but if you'd like to know more, you can search "affiliate disclosure" in the search box to learn more.
Updated December 2022
Are you looking for a unique gifts for the traveling woman in your life?
Or perhaps you're simply looking for a little somethin' somethin' for yourself because of course, you should also treat yourself 🙂 regardless of who you may be shopping for, this list will give you 7 possible ideas for unique travel gifts for female travelers to purchase for the 2021 holidays.
I am proud to say that this list isn't your usual list of "unique travel gifts" that includes travel-themed bracelets and jewelry, a world map, a neck pillow, packing cubes, or portable chargers.
Don't get me wrong – those ARE important and handy travel gifts that travelers will find helpful. However, is it really unique if you've seen those gifts everywhere else?
No, not really.
So, without further ado, in this unique travel content (gifting edition) post, I will share 7 unique travel gift ideas for female travelers, that I haven't really seen shared by many others online, but I definitely find helpful, and also lightweight – two equally important qualities for the female travelers in your life.
Like it? Pin it!
7 Unique Travel Gifts For The Traveling Woman
A wrap sweater does not only serve as a sweater, as the name says, but also as a blanket, pillow, and maybe even a headcover/shall if your friend is visiting a religious space on their travels.
This wrap sweater from Athleta is soooo soft, it features hidden side pockets, and a fitted yet draped look for extra comfort, without sacrificing style.
It's perfect for the flight/train journey while exploring a new city, and generally, a great piece to have, that is quality and stylish to travel around with. Your friend will love this!
This isn't the most unique travel gift for women, but if you're looking for something that your friend will truly appreciate, not only for the item itself but the thought behind it and peace of mind, then this personal safety alarm is the perfect gift for your female travel friend.
I love this personal safety alarm by Birdie which is designed to be super easy to use, is small, and compact, and unlike pepper spray or a taser, it's super easy to travel with and go through security with.
Rather than being an item to fight someone with, this personal safety alarm is designed to set off a loud noise (which you can control the levels of) with a simple pull, which will set off the alarm and bright light, drawing attention to the person.
It's perfect for traveling and exploring foreign cities, hiking, or even walking around campus if your friend is in college.
After a long day of hiking or other fun activities, give your friend the gift of wellness and relaxation on the road.
This unique gift offers a trio of essential oil blends that are easy for packing in your carry-on or backpack, and offer a relaxing blend of cooling peppermint halo oil blend for the head, pain release topical oil, and a trauma-less topical ointment, all made with essential oils, that are 100% natural, vegan, plant-based, and with zero synthetic ingredients.
Check out Saje's website for more travel wellness packs designed for travel and relaxation. Who said adventure and travel can't be relaxing on your body?
Just because your friend travels a lot, doesn't mean they have to sacrifice skin care.
Nope, not anymore!
In the same vein of wellness, taking care of your skin against the usual sweat, dirt, and smog no matter where you're traveling, is important, and therefore a must on this list of travel gifts for the adventurous woman.
Sometimes, I know from personal experience, we can get lazy or simply not know how to pack skincare or how to organize a decent skincare routine on the road.
Especially if we cannot bring all our usual tools and products because of weight and space restrictions, however, that's about to change with this product.
The Treatment Tools by the brand Anisa, are designed to help your skincare-conscious friend not sacrifice their skin well-being while on the road, with these products, which include 3 skincare tools:
"The Bean" designed to help de-puff, contour, and smooth the eye area.
"The Drop" designed to help apply and help the skin absorb your skincare products into sensitive areas of the skin, including areas that have acne, sunburns, and dry patches.
"The Roller" designed to help roll out lymphatic drainage around the face and increase blood circulation.
I don't know about you, but these tools after a full day of travel, and a nap and shower, are sure to help your friend revive and feel her ultimate best self while exploring the world!
This trio of tools is super lightweight, easy to travel with, and comes with a cute little pouch.
With all the walking your travel friends are going to be doing, one of my favorite travel gifts for the adventurous woman is a Fitbit, or any other activity tracker watch because travel is a sport if you really think about it.
Running around trying to find your gate because it's almost boarding time, and lugging your luggage through cobblestone and uphill streets to your Airbnb, will all cause you to break a sweat, but at least there's a view!
If your friend is constantly on the go and is also health-conscious, a Fitbit might just be the perfect gift for them!
The Fitbit Versa 2 is the perfect option, as it literally has the basic functionality of a smartwatch that tracks things such as sleeping patterns, heart activity, walking/running miles/kilometers for those long tour days, as well as with a few extra functions like voice activation, apps, and notifications, and a 6 day + battery life.
It's simple, to the point, and doesn't distract with other things other than tracking health and activity, and that battery life!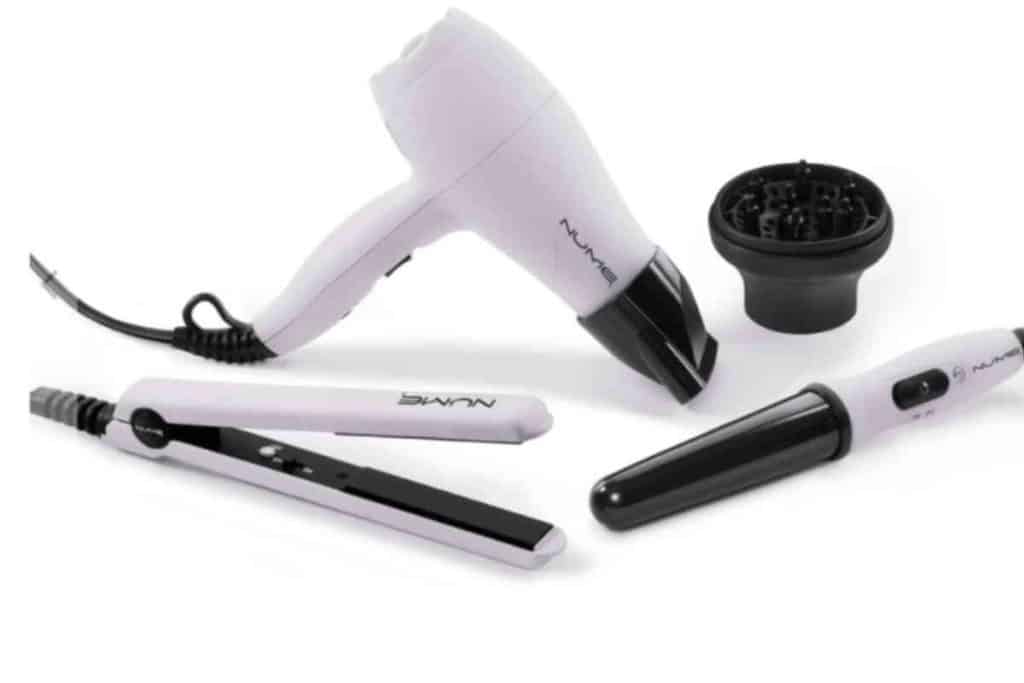 Sticking to the theme of wellness and beauty, what about getting your friend a set of hair tools that are lightweight, powerful, and easy to carry on their travels?
This is one of my favorite and most useful travel gifts on this list because again, why sacrifice good hair while traveling?
Whether your friend wants a set of hot tools to carry for a weekend trip or a few months-long trip throughout Europe, this is a great set to consider buying and gifting your world traveler friends!
This set comes with a mini curling wand, mini hair straightener, and mini blowdryer with a diffuser, and it also comes in a variety of colors!
If your friend loves taking photos while traveling (who doesn't, right?) and she wants to achieve different looks while not sacrificing space in her bag, then this is the perfect gift for her!
File this one under unique travel gifts for women because have you ever heard of a self-cleaning water bottle?
I definitely have not until I started to see people on social media not only talk but rave about how much they've been loving their LARQ water bottle.
Essentially, this is a water bottle of the future – it actively cleans itself and purifies the water from E.Coli, it's lightweight, super sleek, and extremely useful.
For those travel friends that love adventure travel, they'd love this kind of commodity, and really for any of your travel friends that are specific about the water they drink when they're abroad.
It's always a great idea to travel with a water bottle, to begin with, so why not treat your friend with one that does more?
The Wrap-Up: 7 Unique Travel Gifts For The Adventurous Woman
I hope this post with unique travel content (gifting edition) helped you get a better idea of what kinds of gifts there are out there, that go beyond just what you'd find on Amazon or other travel-themed gifts.
Again, no shade to other gifts, but sometimes you want to look for something a bit more unique, and different.
Travelers can sometimes be some of the hardest people to shop for gifts, simply because they've seen a lot, they are always on the move so who knows if they'll even be in town to celebrate, or maybe they don't want to carry many items with them.
Regardless, I'm pretty sure that these items will be SO good, that your travel friends will make space for them if need be.
These gifts are fun, useful, and unique, and I hope that this post gave you that extra inspiration to look for one your friend will like.
Happy holidays!
To more travel moments like these,
Like it? Pin it!