10 Amazing Airbnb Competitors That You Should Start Using
This post may contain affiliate links meaning that when clicked on, I may receive a small commission at no cost to you. It's a great way to support bloggers and content creators, but if you'd like to know more, you can search "affiliate disclosure" in the search box to learn more.
Airbnb is great and all, but some of its competitors have some nice experiences they want to offer up, which you should probably know more about…
I am personally a fan of Airbnb, but the more the market for vacation rentals expands in the last 10 years or so, the more we start to see that there are indeed alternatives to Airbnb that may not only be more cost-effective but may also give you a richer experience.
So, what's the deal with Airbnb? Why are we looking for alternatives?
There are so many other platforms on the internet providing amazing rental services like Airbnb, so a look into its competitors is definitely worth a look, whether it's to compare prices, or simply give another company a shot.
In addition, an increase in Airbnb fees has become one of the factors within the travel community that has taken a few people by surprise, which end up bumping lodging prices to more than what they expected to pay.
Especially if you're traveling within the U.S. – Some of the final Airbnb total prices make you wonder, what's the point of staying in an Airbnb if it may cost around the same if I book a hotel, with more services?
Totally a valid question if you ask me!
In today's post, I want to share with you some of Airbnb competitors in the vacation rental space that could prove to be better alternatives for your booking needs, especially considering that we are in an interesting time where some people are choosing to travel, and others are still waiting it out a bit.
This will determine how the travel industry manages its costs, and how prices will be looking like as we begin booking for future travel.
So, let's take a look at some Airbnb competitors and alternatives that you maybe didn't know existed, and that can equally (or better) give you the sensation of living in a neighborhood of your destination city.
Let's take a look!
Like it? Pin it!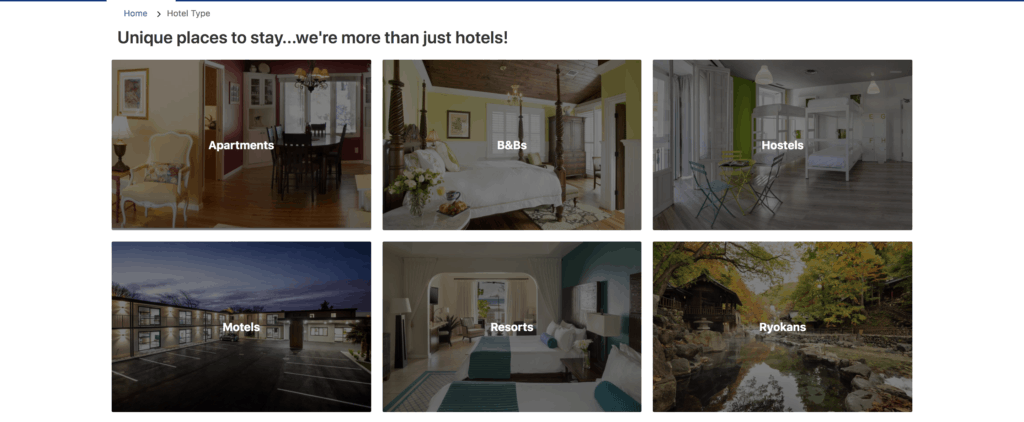 The ever-popular Booking.com site is good not only for hotel searches and renting cars but also for renting vacation properties and apartments all over the world.
From local options to explore your background in nature or the city to halfway across the world.
Booking.com is undoubtedly one of the most recognized booking platforms that since its creation in 1996, it is now available in 43 languages, and offers over 6.2 million homes and apartments available worldwide.
Why book with Booking.com?: Just like Airbnb, Booking.com offers a multitude of vacation rental styles, from apartment rentals to boutique farm stays and whole villas, and that's just the cusp of options available.
There is definitely something for everyone, and at varying price points.
Plus, you can also rent your car in the same place if you do decide to stay in a secluded farmhouse, and you want to drive around the surrounding area or your nearest big metropolis!
Another popular place to check out for things to do and add to your trip itinerary, or restaurant reviews, BUUUT did you know you could also book rental apartments through TripAdvisor?
Yup! You can!
With an abundance of vacation rentals in more than 200 countries worldwide, you have a lot of options from local travel to international, all in one place!
Very much like in TripAdvisor style, you can count on reviews for each listing, making sure that you know from others what their experience was like, and if you'd like to stay there as well, and not to mention their reasonable prices for every budget!
Why book with TripAdvisor?: A browse through its rental listing will highlight just how much more cost-effective it can be to book through TripAdvisor rather than with Airbnb.
I'm talking about staying in places that are super central without an extremely high price like you may sometimes find on Airbnb.
Have a look yourself and see the difference you be paying for the same location, on different platforms.
That could probably show you more than what I can say.
Casai, according to their site, is where hospitality meets beautiful design, and based on the photo above, I am sure you can begin to see that.
With their apartment rental focus being primarily on carefully curated design to create a beautiful ambiance for their guests, modern technological upgrades to help the customer feel fully in control of their booking both while booking on the app, and while staying in the apartment.
Not to mention, it's specific locations where Casai properties are located, all proves that Casai definitely has what it takes to be a real Airbnb competitor.
As we know, nowadays, people want to not only show off their trips, but also where they stay, and the amazing views and amenities they have.
Casai will surely deliver those views, atmospheres, and more. Something to note is that they only currently have apartment rentals available in various cities in Mexico including Mexico City, Tulum, and a few cities in Brazil such as Sao Paulo and Rio de Janeiro.
Hopefully, they expand in the near future because these are some seriously beautiful apartments, and at a really comfortable price point for different budgets.
Why book with Casai?: Unlike Airbnb and even other competitors on the list, Casai stands out because they only have properties in desirable, safe, and convenient locations in the cities where they currently have locations to offer.
That means that you can take out the research and guesswork of which neighborhood to stay in when you're in a completely new city.
I don't know about you, but that's definitely a nice perk! As well as offering local recommendations based on the neighborhood you're in that will further enhance your experience.
So this one is a bit of a wild card, but one I had to include in this list because depending on the type of travel style you may have, or intention for a certain trip you may have, going a bit upscale to a listing on Tablet Hotels is an option where Airbnb homes meet Michelin star excellence.
Now, don't let that intimidate you, because there are some reasonably priced places on the site that you'd honestly pay similarly on other sites with half of the additional services Tablet Hotel provides.
Also, even though this platform is mostly hotels and not rental vacations, you can get a similar vibe with some of the listings on this site such as spending a few nights in a classic airstream trailer in Yosemite National Park for less than $350 a night.
Why book with Tablet Hotel?: Despite some of the prices for which some listings go for, there are still a few options on this site that are reasonably priced for a boujee experience that honestly, everyone deserves at least once.
If you create a free account with them, you'll be able to gain access to their private sale discounts, which I think is totally worth it and a good way to open your horizons to upgrading for a special trip you may have in mind.
By the way, they're super accessible to answer questions and help you with your search depending on travel style, budget, and a rough idea of what you'd like to do.
Popularly known as one of Airbnb's competitors in the vacation rental market, Vrbo is a popular vacation rental company, mostly amongst families.
This is because most of their bookings are entire homes, such as beach houses, condos, and cabins.
Their motto is simple: to find every family the space they need to relax, reconnect, enjoy precious time away together.
Why book with Vrbo?: Something they pride themselves in and want to make clear to their guests, is that when booking through them, customers can rest assured that they are covered with Vrbo's "Book With Confidence Guarantee."
This means that both your payment and rental agreement at the time of booking will be protected against fraud, phishing, or any kind of significant misrepresentation of the property.
Agoda, like a few options in this list, has more options than their traditional hotel searches and offerings, therefore, Agoda makes it on the list as one of Airbnb's competitors to check out for your next trip!
Agoda is a very popular vacation rental booking site, especially throughout Asia, with around 2 million customers searching their site and app and choosing from a whopping 700,000 homes in over 50 countries all around the world.
It's safe to say that they are not only legit, but you'll definitely find something to your liking, budget, and travel style.
Why book with Agoda?: For travelers, their vacation rental options do prove to be a bit less expensive than if you were booking through other sites, as you can see from the image above.
An apartment in Madrid, such as the one shown in the image above in Gran Via for $108 is a pretty good deal.
So it's definitely worth it to check out and compare prices with Agoda when booking your next vacation rental/apartment.
For property owners, Agoda claims to give you 100% control and earnings from your listing, unlike other competitors.
If that part caught your eye, then definitely consider posting your space on this site! For more information, you can click here.
Originating in 2013, Homestay is a vacation rental provider in which quality hospitality meets budget travelers, where a room costs an average of $31 a night, virtually anywhere in the world, and with more than 33,000+ homes available worldwide.
With their prices, it truly does cater to the budget traveler or the type of traveler that just wants a place to crash at the end of the night or get to know locals by renting out a room in a home.
Plus with their filter tool, you can customize exactly what you're looking for, such as if you'd like a space with wifi, what you'd like to do while you're there, and kitchen availability.
Their motto is simply to create home sharing an accessible, wallet-friendly option for as many people as they can.
Why book with Homestay?: I find the website to be very easy to use, their an extremely credible vacation rental company, with thousands of reviews for most, if not all of their listings.
You can rest assured that you will have a good idea of who you will be staying with, and what to expect, which is amazing!
You get a place to stay for a reasonably low price, and in many cases, you get to make local friends with your host.
This specific Airbnb alternative and competitor option is particularly a good one for families, as they offer the majority of kid-friendly options for families that include a great selection depending on your kid's ages, travel plans, and style.
Kid and Coe began serving traveling families in 2013 when the founder found herself traveling all over the world with her traveling husband, always trying to find a place that felt like home for their constantly moving family.
Also, a browse through their listing you'll see that it's not just the kids they consider, but also the parents and their style of travel and places to stay. Beautiful homes, nestled in family-friendly neighborhoods. It's a win-win!
Why book with Kid and Coe?: They pride themselves in their approach to traveling with children, and how they want to revolutionize the way families travel.
Forgetting about the difficulties of the guesswork behind finding a place to stay that everyone will like, Kid and Coe works directly with local PARENTS that consult them on ways to take advantage of their cities, especially with children in mind and what they would like most, based on age and other factors.
How amazing is that?
I'm not a parent, but I can only imagine how nice it would be to have any kind of insight on entertaining your children and creating a travel experience that will really impact them positively at a young age – instead of it being just another boring vacation they're forced to go on?
Vacasa is another excellent Airbnb competitor to look into when it comes to vacation rental, cabins, condos, lake houses, beachfront homes, and other beautiful nature-filled escape homes for your travels!
Vacasa specifically is available throughout the U.S. including Canada and Mexico, and a few countries in Central America as well.
For some of the properties available on the platform and the prices they offer, you can find some incredible vacation rentals with pools as low as $375 a night.
Why book with Vacasa?: One of the things that I notice from them that I don't see anywhere else is the possibility to tour the properties with their 3D virtual tours, which is cool!
Another difference is that Vacasa seems to be the one in charge of taking care of the rental home so that the owners are not the ones cleaning and maintaining the rental such as is the case with Airbnb.
With this, they are guaranteeing that guests will find exactly what they are looking for.
HomeToGo is more of a marketplace where various vacation rentals from different platforms come together, for you to choose which one best suits you. It's like the Expedia or Kayak of the vacation rentals.
However, this is a good place to go, especially if you're really just looking to go to a type of one-stop-shop where you'll get a birds-eye view of all vacation rental options.
HomeToGo has properties of all sorts from apartments, boats, castles, cabins, and also includes hotel and hostel searches as well, so you really get to compare what is worth checking out and not.
This option seems to be a pretty good competitor for Airbnb just because of its nature.
Why book with HomeToGo?: Their large selection of various types of vacation rentals really speaks for itself, it can save you time and really get you to compare across multiple places at once what your best option is.
So, should you ditch Airbnb completely? What do you think about Airbnb's competitors? Concluding thoughts
Obviously, not!
Again, I use Airbnb, and I have had great experiences with it, however, in doing the research for this post myself, I have definitely seen for myself (and I hope I've shown you that too) just how many options there are available out there for your next trip!
So this post is simply just to expand your awareness of all these different competitors and alternatives to Airbnb that you can start looking into!
I hope this list gave you that insight, especially as the vacation/apartment rental market expands and is stepping up its game in terms of amenities, services, experiences, and prices.
It's good to know, and I hope this list gave you some ideas for your next trip planning.
To more travel moments like this ✨
Airbnb alternatives and competitors FAQ
Booking.com
TripAdvisor
Casai
Tablet Hotels
VRBO
Agoda Apartments
Homestay
Kid and Coe
Vacasa
HomeToGo
From doing my own research for this post, I have found that there are tons of other platforms like Airbnb that oftentimes have better deals, apartment/home locations, customer service, easy booking and check-in, and options in different destinations, that Airbnb doesn't have. My best advice in order to get the best accommodation deals is to check out and cross-reference different accommodations using some of Airbnb's competitors like the ones listed on this post and check which option suits your travel style, itinerary, and budget most.
It depends on your destination, when you're traveling, and how many are traveling with you, and your travel/accommodation style. However, if you expand outside of Airbnb and you also check with other competitor sites such as Booking.com, Agoda Apartments, and Casai, you'll quickly realize that there are other places that offer "Airbnb-style" apartment rental homes, for slightly cheaper prices, or maybe the same, but with enhanced services, better and central apartment locations, aesthetic interior designs, and better customer service. It's worth expanding your search beyond Airbnb!
The truth is, that there isn't one that is better than the other. Each site caters to slightly different people, for instance, Airbnb offers both whole apartment/home options as well as rooms inside homes, and VRBO offers mostly whole house/home options, making their properties more suitable for family and/or group travel than the individual, solo traveler. So, it's based on the traveler and their style which platform works best for them!
Like it? Pin it!