How To Travel The World For Cheap: 11 Tips You NEED For Traveling On A Budget
This post may contain affiliate links meaning that when clicked on, I may receive a small commission at no cost to you. It's a great way to support bloggers and content creators, but if you'd like to know more, you can search "affiliate disclosure" in the search box to learn more.
Updated April 2022
It's no secret that traveling on a budget and learning how to travel the world for cheap is a commonly searched question on the internet and for good reason.
In the last few years, the possibility and access to traveling more often has opened up with new budget airlines popping up, new routes being added, and connecting cities and passengers efficiently, the rise in remote work as a result of side gigs and full online businesses rising, and so much more.
The possibilities to travel more are imminent, and in today's post, I want to share 11 ways that you can further reduce the costs of your travels, whether you're traveling near or far.
A slightly different perspective on budget travel
The common rhetoric around how to travel the world for cheap seems to be that you have to see where you can cut costs altogether to save money in general, which I am not deeming as negative in any way.
I would just like to offer this alternate approach to budget travel, with the intention of adding variety to the budget you're working with and an alternative look to where you can cut costs more easily SO you can create extra wiggle room to put a bit more money perhaps towards something specific.
Something such as a specific experience or an Airbnb apartment will make the travel experience that much more amazing for you.
It may be worth the consideration of your budget when you're traveling to see ways in which you can cut costs, and where you can maybe put some of that money you're saving in order to create an even more memorable travel experience.
So without further ado, here are 11 tips for traveling on a budget.
Like it? Pin it!
How To Travel The World For Cheap: 11 Tips You NEED For Traveling On A Budget
1. Pick a low-cost and/or nearby destination
It's quite amazing how many beautiful and amazing destinations we have near us, that when we think about traveling the world, we oftentimes forget about the neighboring wonders.
Look around to your surroundings, if there is a state or part of your country you've never been to or simply check out Skyscanner's anywhere, anytime feature to see a variety of travel deals throughout the cheapest months.
There are tons of amazing places near you that all you have to do is look.
That's why I personally love using Skyscanner as my main flight search engine, as it can boil down anything from when it is cheapest to travel anywhere, or when it is cheapest to fly to a certain destination I have in mind. If you haven't tried it, I recommend using it for your next trip!
Regardless of where you go, research online through blogs and YouTube videos, to get a real person's perspective and experience on how they spent their money while visiting your potential destination.
In specific, I have to recommend this channel called costoflivin because of their breakdown of how much things like the food at grocery stores and going out are, as well as other "daily" things.
I would take the information you get from a video of his for example, and couple it with the prices of your activities.
Creating a Google Sheet or Excel sheet can help you keep track of expenses.
2. Keep track of your expenses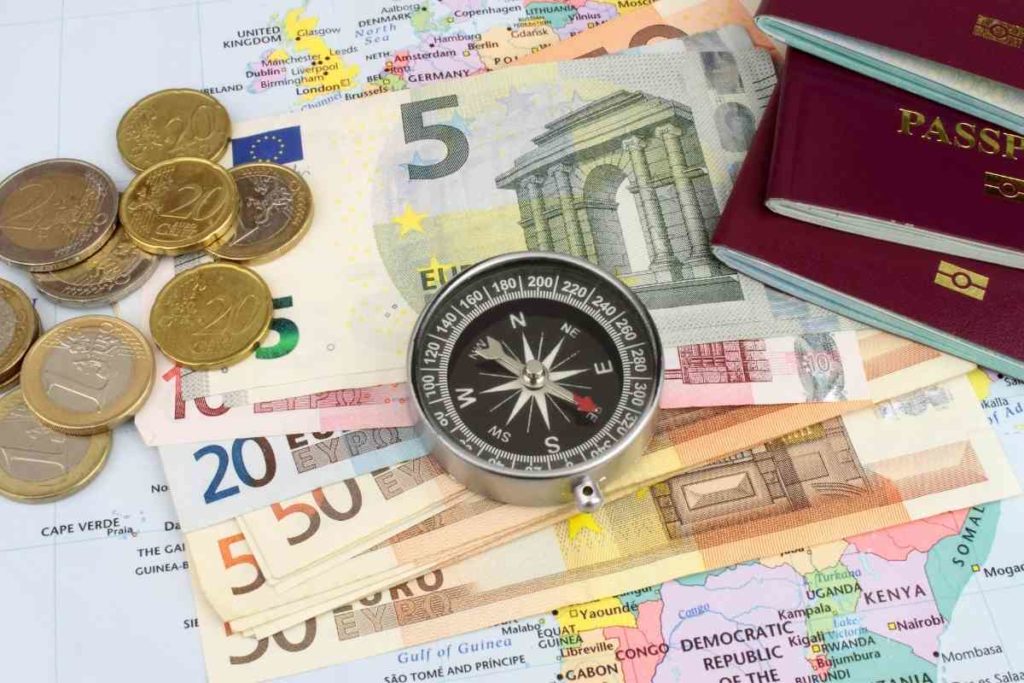 Speaking of excel sheets and ways to track your expenses before and during your trips, If you're traveling with others such as family and friends, we all know that keeping track not only of expenses, but who has paid what, and who owes who what. I personally recommend using the app called Splitwise (not sponsored) to help you keep track of those transactions, and keeping up with pending balances.
Reasons why I love Splitwise:
Tracks and organizes expenses and balances.
Allows you to create groups for your different trips and invite people to the group so everyone is able to add bills to keep track of expenses paid and needing to be paid.
Customizable features to help people split their costs equally, automatically with the number of people in the group.
It's 100% free with the possibility to upgrade to Splitwise PRO (but really you could just get all the benefits using the free version).
Other resources with information regarding splitting costs with others, fairness calculators, and so much more.
Using an app like Splitwise could be super helpful and make traveling with other people easier when it comes to money management.
Before the trip, creating an excel sheet with all the places and things you want to see and experience along with their price tag can be very beneficial to have.
This will help guide how much money you want to save, and how much you can bring with you (if you choose to bring cash-more on that later).
I've used it in the past, I love it, and I think you should know about it ☺️
3. Research any and all nearby airports you can fly in/out of (departing/arriving)
Research a neighboring airport nearby and check out flight prices to your destination.
Likewise, check if you can fly into a different airport at your destination.
When it comes to the latter, make sure that the cost/accessibility of getting to the city center isn't troublesome or costly, because then that defeats the purpose of flying into a different airport to save money.
I would suggest this option only if the fight difference is considerably different (subjective to each) and if you're willing to make the extra trek.
Look into the different ways that you can get to the city center from the alternative airport so you can make a better decision and see if it is worth it.
Oftentimes you'd be surprised at how much you can save from doing this, so try it out!
Another quick tip is that if you're flexible, typically flights are less expensive when flying out in the middle of the week, and likewise when your arrival date is somewhere in the middle of the week.
Play with the dates if it's a possibility for you to rearrange your schedule!
4. Start saving money in the background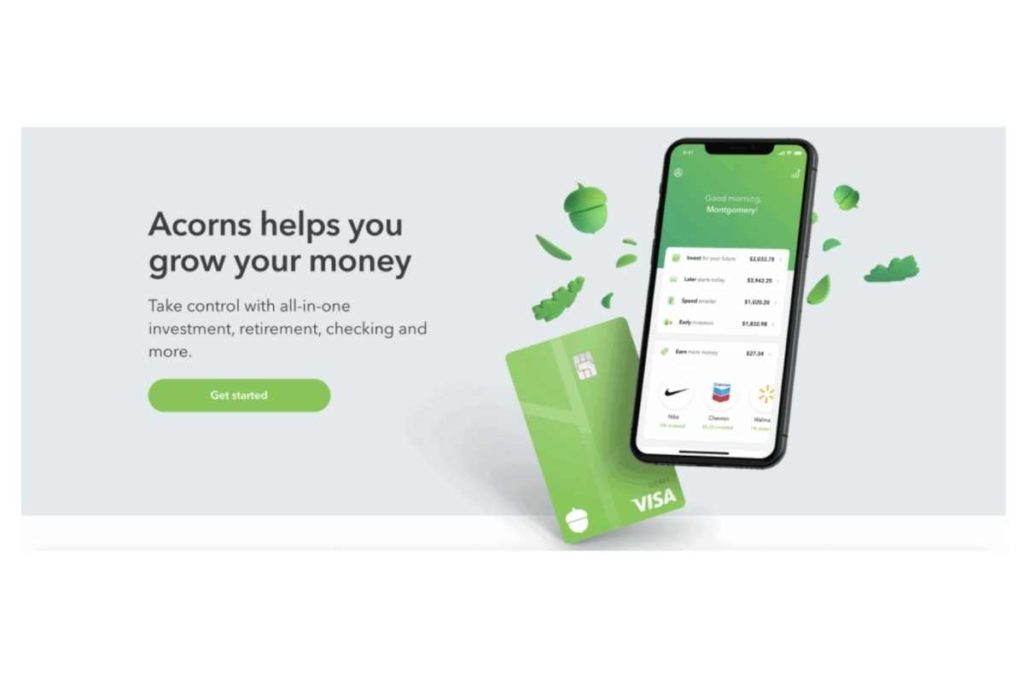 If you haven't already read the post where I talk about how acorns helped me save an extra $1,000 for travel, then read it here, or just stick around for the reason why I think you should open up an account with them, pronto!
Acorns is an investing and savings app that helps you rack up money as you shop and by opting into investing as little as $1 every month into your savings account (or what I like to call, my travel fund).
In the past, it's helped me reach a little over $1,000 in extra money for travel or anything I want really (read that post HERE if you're interested in the details of how that happened).
It's so nice to know that my shopping and extra spare change is being used for good, and now because of it, I get to travel with an extra grand in my pocket.
Read here if you're interested in learning more about how I did it, and how you can too!
5. Schedule out what you plan to see/do
By doing this, you can mindfully plan how much money you're going to spend each day.
Are you going to have days where you're going to have tour after tour?
Will you have time to sit down for an actual meal at a restaurant or will it be more of a snacking day and a heavier dinner kind of day?
Scheduling out your activities (roughly speaking) can help you gauge things like your meals, other activities, and how much you'll be spending per day.
I like to do this often when planning a trip simply to help me get a birds-eye view of not only the itinerary, but also how much money to budget each day, and see where I have some wiggle room at the end.
If you're thinking that this is something that could help you not only save money but also organize your trip a bit more (give it a bit of a skeleton to plan around) then I got the perfect tool for you!
Download my FREE Travel Day-By-Day Money Tracker! An editable Google Sheet to help you keep track of your expenses and activities each and every day!
Whether you're a planner or more of go with the flow, this tracker sheet will help you create ease and flow with your time and money – two important things!
6. Consider when you want to buy your museum tickets
And by this, I mean think about what is better for you, to buy your tickets online ahead of time or buying them in person.
Buying your tickets in advance can definitely help you save not only time and money but your sanity.
Get yourself tickets in advance if possible so that you have more of a structure to your days when it comes to planning things ahead of time, and of course, estimating how much money you'll spend roughly per day, depending on how many activities and museums you're going to vs. the days that are freer, and therefore you may end up needing to allot a bit of wiggle room in the budget for those days.
I do however want to bring up the other reality to this, which is that some museums will charge a bit less when you buy them in person (they are few, but there are some out there that do this).
The Louvre, for example, explains on their site that an online booking of a regular ticket entrance is 17 euros with a quick entrance to the museum in under 30 minutes, while if you buy in person, it can cost 15 euros, but you risk waiting hours in line.
My best suggestion is to research the museums you want to visit and keep track of ticket prices along with other activities with the Travel Day-By-Day Money Tracker.
You won't want to carry around all these numbers in your head, or even in a notebook because they won't automatically calculate or update quickly as the tracker will.
The bonus here is that you can copy and paste the formulas for future trips in the same file, so you keep a record of your expenses which will help you create future travel budgets – WIN!
Make sure to download your FREE copy down below!
7. Check your airline fees closely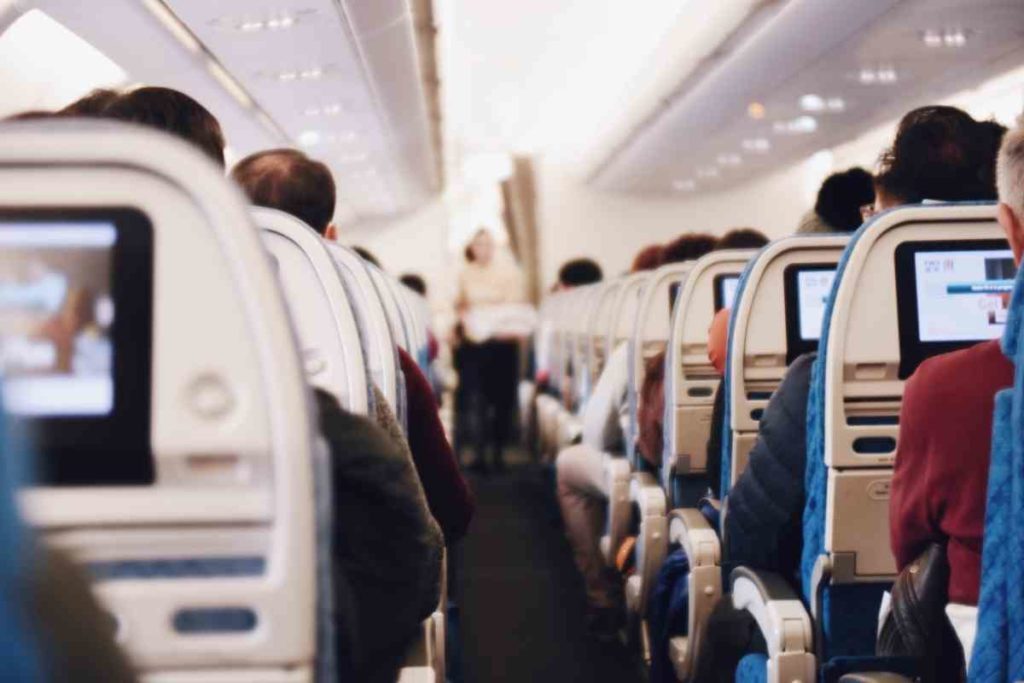 Some airlines will charge extra if you go to the desk to check in at the airport, and some may charge you if you pick your own seats when reserving your ticket.
Pay close attention and be aware of those sneaky hidden fees.
For example, we may all be aware that budget airlines such as Easy Jey and Ryanair are notoriously known for their two, sometimes even one-digit flight prices all across Europe.
However looking a bit closer, you'll see that the budget airlines make up the rest of the cost with really strict luggage policies.
For instance, on the left, you have Iberia (the main flight carrier in Spain) that may have slightly elevated ticket prices, but their ticket prices include one standard carry on rolling bag for each passenger (and sometimes you can run into some really good deals with these airlines too, so don't be fooled).
While on the right, you'll see Ryanair's baggage policy which only allows each passenger a small handbag, laptop bag, or small backpack (one that fits under the seat in front of you) for free, while if you want to take a standard rolling carry on bag, you'll need to pay anything between £10-£25 extra.
Sometimes it's worth it to fly budget airlines, and sometimes you're actually better off financially with a national airline – it all depends on the time of year you're flying, and the travel route, amongst other things.
The purpose of this is that you do your research and that you're aware of the tricky baggage fees and potentially other fees.
Another quick example of sneaky fees is printing your boarding pass at home and showing that at the airport, or downloading the app and having your boarding pass on your phone, instead of waiting to print it at the desk.
Volaris (a popular budget Mexican airline) will charge you between $10-$15 if you go to the desk and ask them to print it for you, so be aware!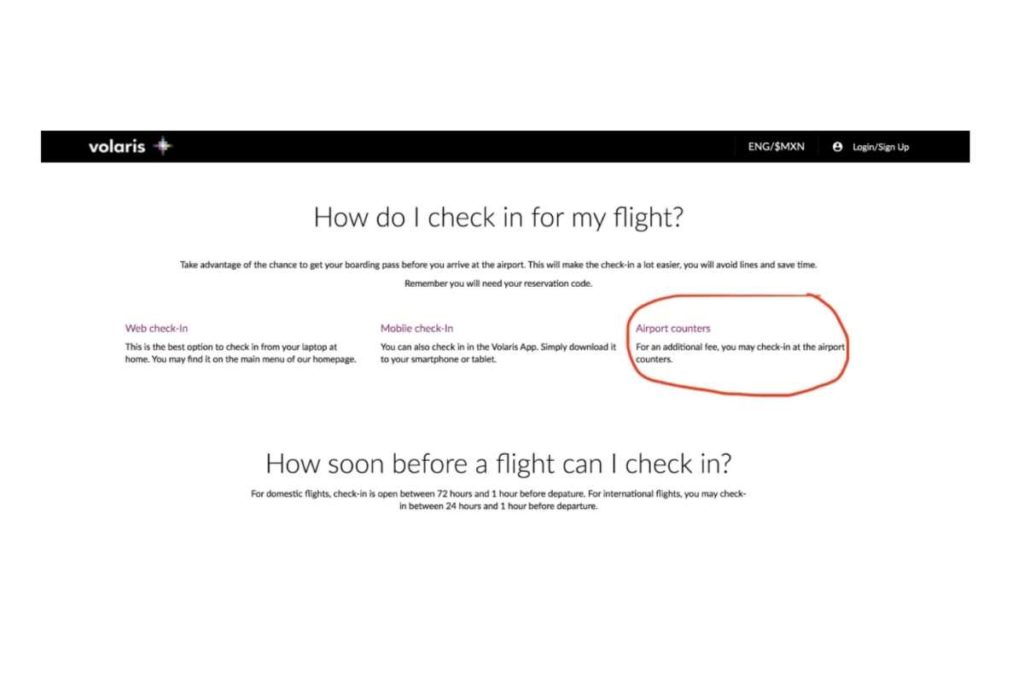 This would be a good example in case you are someone who is planning on taking more luggage on your travels, maybe allowing a bit of extra money that you're saving in other areas, into your flight so you can fly with an airline that has more flexibility with their luggage.
8. Compare flight prices
Skyscanner is by far my favorite way to check and compare flight prices with different airlines simultaneously and seeing when the best time to fly is.
I always use it even if I end up booking with the airline on their site, it's just always such a good resource to have to make a better judgment of flight prices, and when it is a better time to fly, price-wise.
I can't recommend Skyscanner enough!
If you're flexible enough to fly, this is the place to check your flight options.
9. Cash vs. cards abroad
I personally prefer to travel with physical foreign currency in my pocket because you just never know how soon you'll need to start paying for things, and there may not be an ATM in sight.
When it comes to why using cash instead of cards may save you money on your future travels, here's why: it's a physical budget.
When you have done all your calculations, maybe you used the Travel Day-By-Day Money Tracker and found out what that magic number is for you, you can now exchange that amount and be ready to hit the ground running as soon as you land.
Knowing how much your trip expenses will be ahead of time (more or less) will require you to stick to a budget, instead of using your card, and not keeping exact track of your expenses that way.
With cash, once it's gone or you're running low, you'll notice.
With a debit or credit card, not so much.
Unless you had an app that could help you keep track of all those expenses, and where you could customize it with the trip budget and destination…such as a prepaid travel card (also a good option) some of the popular ones
I've heard of are N26, Revolute, and Transferwise which have many benefits like little to no fees to bank with them or withdraw cash or transfer fees abroad.
It's worth checking them out too if you're looking into taking a prepaid card instead of physical cash.
10. Choose accommodations with access to a kitchen
Whether you're staying at a hostel (traditionally a less expensive lodging option) or an Airbnb (my preferred lodging style) or even a hotel, be sure to compare all of your options.
Don't just go with the lowest price tag, instead, look to see the amenities that come with the rooms.
One of the reasons why I love Airbnb is because of the amenities including the kitchen that you get access to. Having a kitchen will help you reduce the cost of eating out, and this is not to say that you're going to cook every single meal.
It only means however that you have the option to perhaps have breakfast at home, especially if you have an early start to your day which saves time and money, and again, we want that!
Get the experience of buying groceries with other locals as if you were one – hey, it's all about the experience and feel of it, right? Make this a fun experience!
So looking into an Airbnb (like the one I stayed in Sofia) or a hostel with a kitchen is the ideal situation here, as you can make some of your own food, snack and have a place to store a prepared lunch if it's a day of hiking that you're planning or a quick breakfast during the day.
The rest of the food budget can go towards that restaurant that you've heard about in the city or that boutique coffee shop moment.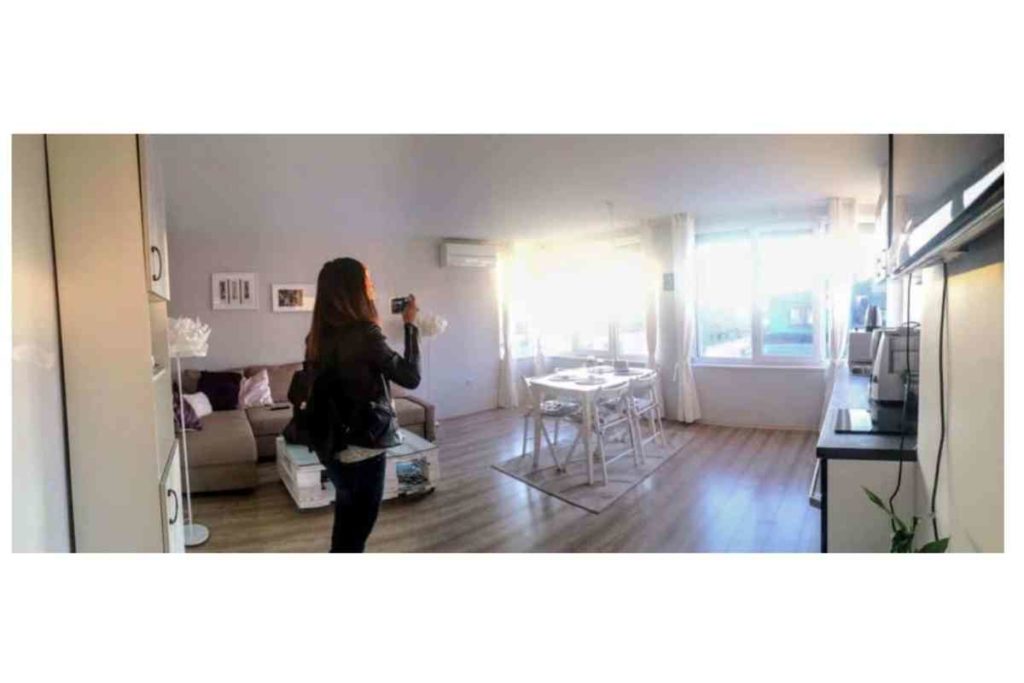 11. Take your meals outdoors
The park, you, the scene in front of you – bliss.
Honestly if the weather permits, grab yourself a meal to go, some wine (if you fancy), or any sparkly beverage of choice and sit in a park or by a river and just take in the scene of the city and all of its beauty as you eat.
This is something I do on almost all of my trips, have a picnic somewhere or just have a meal at a park somewhere with local snacks or "must-try" food items. it's such a fun experience, probably less expensive than going to a sit-down restaurant, and probably way more memorable because of the feeling of seeing a city differently, while enjoying local treats.
It kind of hits you that you're in the city you're visiting. Plus people-watching is always a plus.
Don't forget to download your FREE Travel Day-By-Day Money Tracker, and keep the order of your expenses the easy way for all future travel, in one place!
Which is your favorite budget travel tip? Is there one you have that you'd like to share? Share below in the comments!
To more travel moments like these ✨
Like it? Pin it!