What Is It Like To Teach English in Spain? – 17 Of The Most Frequent Questions Answered!
This post may contain affiliate links meaning that when clicked on, I may receive a small commission at no cost to you. It's a great way to support bloggers and content creators, but if you'd like to know more, you can search "affiliate disclosure" in the search box to learn more.
Making the decision to move away to Spain for a whole school year is not always an easy one to take.
Sure, there is the excitement and wonder of living that expat life abroad, but once you come down from the excitement a bit, enough to start to think of the logistics and questions that come up between life in the States and life in Spain, some resistance, confusion, or worry may start to dawn upon you.
But don't let that get in the way of a potentially life-changing year in a different country!
In this post, I am going to share my answers to some of the most common questions surrounding teaching English in Spain, specifically, which may also pertain to whatever other city you may be considering moving to and teaching English at.
Like it? Pin it!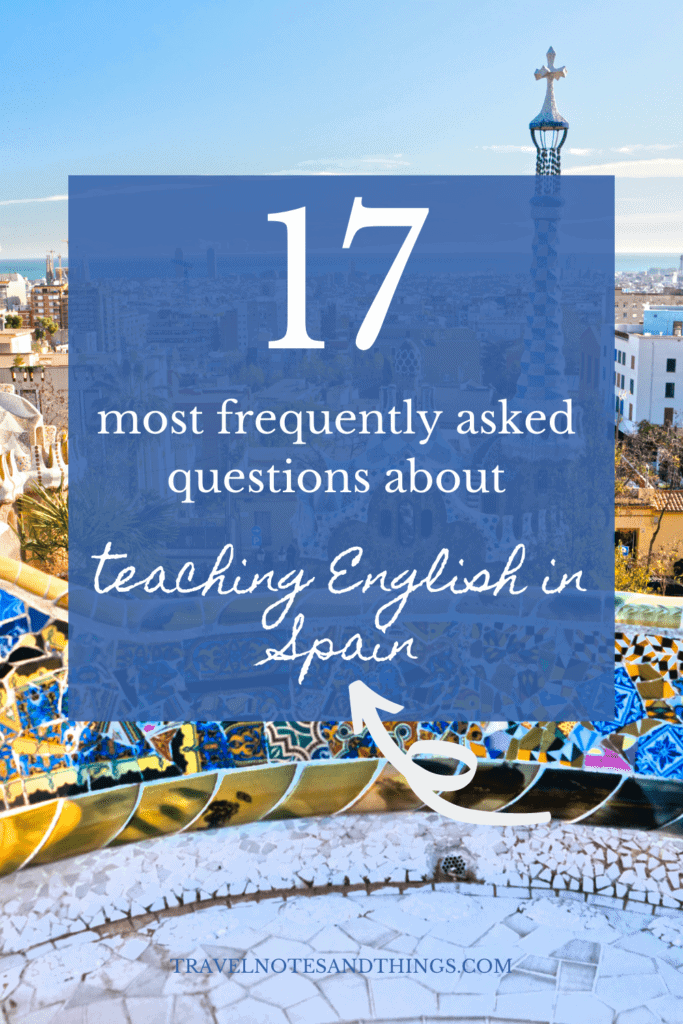 First of all, who am I?
Hi there! Profe Maritza here 🙂
I taught English in Spain after I graduated college in 2015, and I was there for the 2015-2016 school year, and to this day, it has been one of the best decisions I have taken. Especially right after college.
And humbly, here are my reasons:
Having a sort of "gap" year between college and the "traditional 9-5 job hunt" that I wan't even sure I wanted, gave me the time to realize what I actually wanted, and actually experience and live for the first few times the type of lifestyle I wanted vs. the type of job I wanted.
The amount of independence and real life experience that you get (you know, the one that every single job asks for) is unmatched. You learn a crazy amount about yourself, and you sharpen and develop your soft and professional skills way faster than you would at home.
You learn how to navigate a foreign culture, and what a foreign work culture specifically is like.
You start to lose the fear in a lot of things that used to scare you after doing something like moving abroad, and dealing with the logistics, culture shock, bureaucracy, and more. Things that used to scare you, won't anymore, and that is priceless.
Where in Spain and what school/ type of school ( private / public ) can you end up teaching?
I taught in what is considered a colegio catolico concertado, or in English, it's called a private, catholic school in a suburb town of Madrid, Spain.
There are 3 types of schools in Spain – public schools (colegio publico), private school (colegio privado), and semi-private schools (colegio concertado) which are schools that are only partially funded by the government.
When you apply to become an English teacher, you will more than often get an opportunity to choose where you'd like to teach, as in what city or region in Spain. I chose Madrid.
The same goes for the ages that you prefer teaching – I believe I said that I didn't have much of a preference, but maybe leaned more with the older students.
I ended up teaching children as young as 5/6 all the way to 15/16, and I loved it!
What is the housing situation like in Spain for English teachers?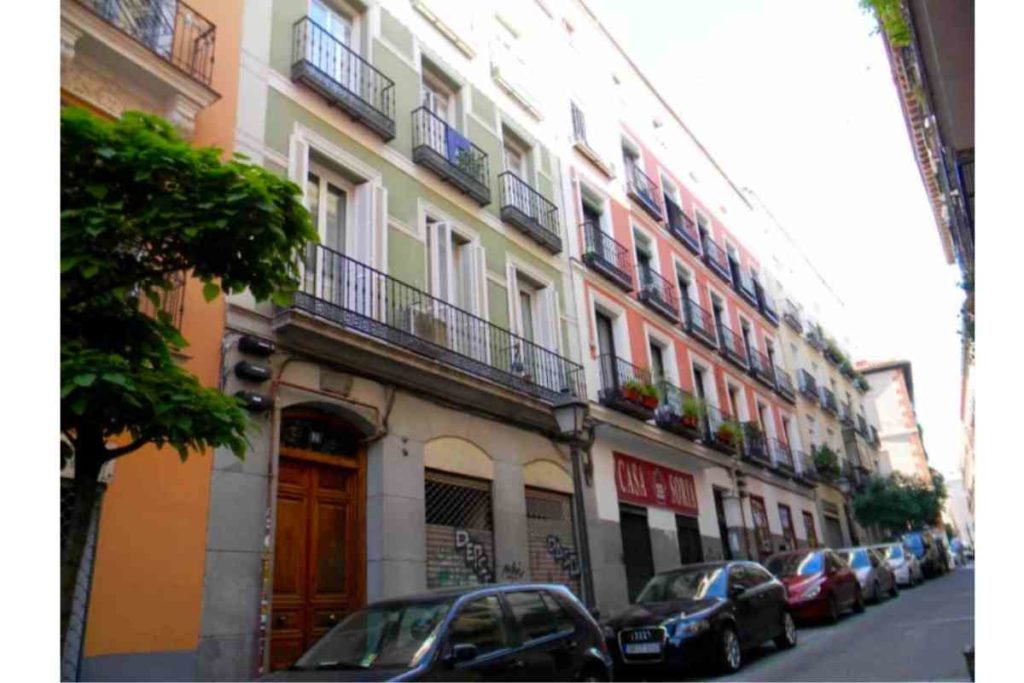 When you apply to become an English teacher in Spain, depending on which company you go with, you'll usually have the option to live with a host family, which means that you don't pay for rent, food, and utilities.
The trade-off here is that you will most likely be required to practice English with the host family's children, and/or the parents.
You also get the choice to live on your own, find your own housing in the city center if you wish, and experience that independence.
I personally decided to go with living with a host family, because I wanted to experience the Spanish culture in the most authentic way possible, and overall I was very happy with my decision.
I speak more about my decision to live with a host family down below in the post, if you're interested in this a bit more!
How much do English teachers earn in Spain?
Depending on your housing decision, your pay will vary as a result.
If you decide to live on your own, find your own housing, live autonomously, your pay will be around 1,000 euros a month.
If you decide to live with a host family, experience the Spanish culture as authentically as possible, your pay will reduce to about half, so around ~500 euros a month.
Keep in mind, if you live with a host family, your essentials like food, the roof over your head, and utilities, are covered, so realistically you'd only be paying for things like your phone bill, a transportation card if you choose to get one (which I recommend!) and other things such as for traveling and/or socializing when you're not teaching.
Also keep in mind that in exchange, you're most likely going to be expected to practice English with your host family, their kids, or whatever arrangement you can all come together in, but that is the trade-off for not finding housing and going through that process. But it's up to you!
If you live in your own place, you get a lot more freedom but you get the stress of finding a place to live, and in cities like Madrid and Barcelona, this can be a tough thing!
Add in the possibility of not knowing the language, and it can feel a bit overwhelming. Especially as everyone is moving into the city around the same time (August/September/October) so finding housing can be a bit stressful, I've seen.
However, it's not impossible to find housing for English teachers in Spain, so if this is the kind of experience you're looking for, definitely consider it!
Spain often has long weekends due to bank holidays, or puntes as the call them, so the temptation to travel is real, and you may want to allocate some money for that, but that is up to you!
What qualifications do I need to teach English in Spain? Can you teach English in Spain without a degree?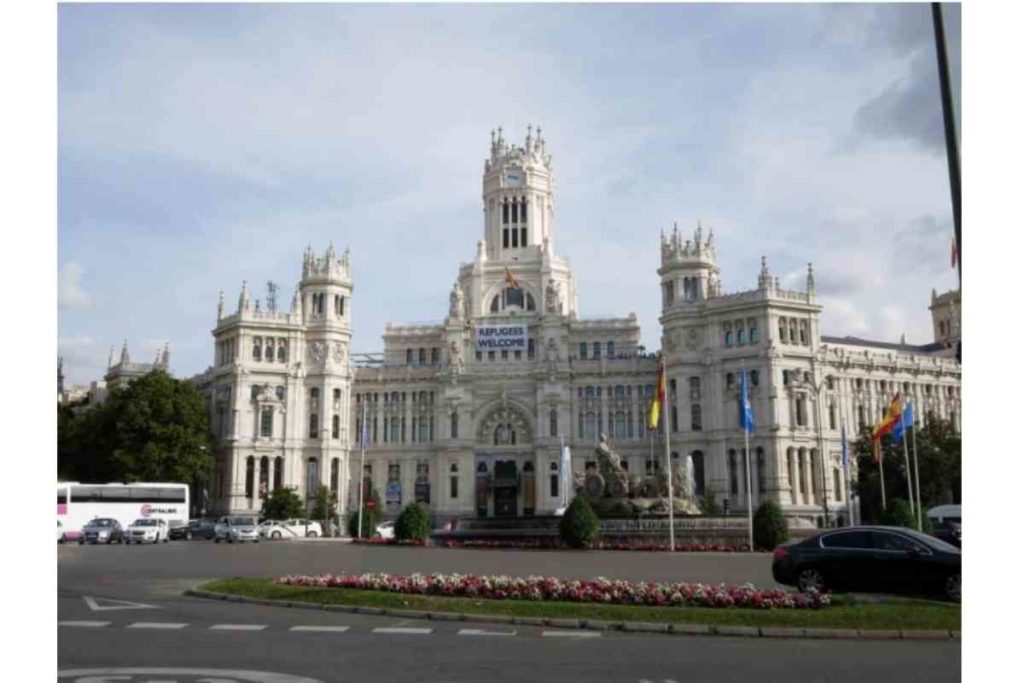 Many programs that take people to teach English in Spain will require a minimum of a high school diploma, and if you have a college degree, you have a better chance at standing out amongst the other applications.
Your college degree doesn't have to be in education, it can literally be in anything.
I graduated with my bachelor's in Sociology and Anthropology and got accepted just fine with that.
Other than that, other qualifications they will look for include:
A clean criminal background check
Be a native English speaker (for most programs, there may be others that accept a certain level of proficiency, but they aren't that common), and no, you don't have to speak Spanish. 
Any teaching experience, babysitting, volunteer experience, or tutoring, you may have done in the past will help your application, but it's definitely not a requirement. Don't let a lack of teaching experience keep you from applying, I would say, just be prepared to learn how to teach, and pack in a lot of patience as well. 
Do I need a TEFL certificate to teach English abroad?
A quick word about the TEFL – Teaching English as a Foreign Language, is a certificate that is required by all programs and schools where you will be teaching, which in most cases, will be provided by the program you apply with.
In my case, I went with a program called Meddeas, and in my program, I was teaching during the day, and at night I would be studying and taking my TEFL course online with the University of Catalunya.
In many cases, your program will have you take TEFL courses while you're teaching, so you are better equipped, knowledgeable, and understanding of how to do your job as best as you can.
Is Spain's living costs expensive? Is it expensive to live in Spain?
This depends on a lot of factors, such as if you're living in Madrid, which is one of the most expensive cities in Spain, or in a different region that is less expensive, such as the southern region, which is typically less expensive in terms of living.
It also depends on your spending habits, and ultimately your goal once you're there.
Ask yourself, what experiences do you want to have while in Spain?
Do you want to travel?
Do you want to have a social life and meet people?
Do you want to take Spanish classes?
Do you want to have accessibility to things such as a gym membership, dance classes, cooking classes, etc.
Do you want to be able to have spending money to shop around Spain's amazing shops? Or try Spain's amazing food and go to tapas restaurants?
Ask yourself these questions, and make a plan as to what you'd like to experience, search on YouTube or blogs and see what the breakdown costs are for things like food, rent, etc.
In addition, this also depends on whether you're going to live on your own, or with a host family, and how much money you plan on bringing with you, which I recommend doing especially to cover expenses the first month before you get paid by your school.
I lived with a host family, and my costs included things like my data service for my phone, my transportation card, a few bills I was paying from Spain back home, travel, and shopping.
My teaching salary of 500 euros wasn't covering all of it, so I decided to take on private tutoring classes which helped cover different areas in my budget, along with savings I had.
You can make a decent living in Spain, especially Madrid even if it's expensive.
Again, it'll be a really good budgeting experience to be able to move your money around and prioritize certain activities and expenses.
The good thing about Madrid, and Spain generally is that there are always free events happening and something is always happening, so you will not be bored even if you're trying to save money.
Are there programs that include accommodation fees? Or do you have to find accommodation yourself?
Depending on your program, some will.
The program I went with, Meddeas, did require a deposit of $350, which I got back at the end of my program, after passing their qualifications such as passing my TEFL course, fulfilling my commitments with my school, and a few other requirements. 
I will forewarn you however, I had a good experience with receiving my deposit back, and overall with my program, Meddeas, however, I know a few others including a few friends that didn't unfortunately.
My best advice in these situations, if you run into any kind of miscommunication with your school or program you go with, regardless of which program you choose to go with, is to inform yourself as best as you can, from multiple sources.
Meaning, don't rely solely on your program for information regarding teaching English in Spain, payments, and other logistics and legal processes you have to go through once in Spain.
Be in constant communication with your program, review what they do for you, look at other programs' FAQ sites, Facebook groups are also gold mines for answers and advice, and in some cases, your school can help guide you a bit, but not entirely as they are not directly working with the personnel of the program you're with.
They just receive the English teacher (you) by assignment.
Most programs will not find accommodations for you, unless you decide to live with a host family – they will assign you a host family in that case and give you that information before your departure so you can get in contact with them.
If you're going to live on your own, you pretty much have to figure your own living situation out on your own. 
There are sites that you can look at to check out housing in different cities in Madrid, such as Idealista, and join Facebook groups in Madrid such as "Americans in Madrid". There you will find tons of opportunities to find everything from roommates, to apartments for rent, rooms for rent, and so much more! It's a goldmine of information, regardless of if you use it to look for housing, or where to buy a specific ingredient in the city.
The program's purpose is to facilitate the process of finding a job for you before arriving in Spain, facilitate studying and receiving the TEFL certificate, help you with the next steps to follow once you arrive and throughout your time in Spain, such as how to open up a bank account, how to register to be covered by the Spanish National Health System, how to receive your TIE (NIE) which is your foreigner identification number that the country assigns you in order to stay longer than your student visa allows, etc.
Is Spain safe? Is Spain a good place to live?
I can only speak from my experience, and when I say that I felt very safe – safer than I would back home, it is not an exaggeration.
Without getting into politics or certain debates, the fact that I could go into a movie theater, mall, or any event with people and not fear a firearm tragedy, was already enough for me.
And while danger can strike at any moment anywhere, It was never really a concern that I felt and/or heard of within Spain.
As a Mexican-American woman, I didn't receive any kind of racism, discrimination, or uncalled-for remarks, and walking alone at night (which I did) was not scary just because Spaniards are out walking late anyways, so there were people out in the streets even later.
Of course, I also lived in a suburb town of Madrid, so that is where my experience comes from.
But I visited city center Madrid every weekend, traveled throughout Spain, used public transport all the time on my own, and never felt fearful.  
Even when I'd get lost.
That is not to say that Spain is the perfect country, and 100% safe.
That is not the case.
I know other English teachers have experienced a few cases of unfortunate events with Spaniards, such as racism, discrimination, and one of their big problems, pickpocketing which is a big issue in Spain.
Scamming is unfortunately common amongst some locals and expats, when it comes to certain side gig opportunities, spreading false information about different topics English teachers were searching for, and one of the most common ones, housing, and landlords issues, not being honest with the tenant, or trying to scam them for money.
I haven't personally experienced this, but I knew people that did and the Facebook group has these stories as well.
So just be cautious, vigilant, read the room/space, take care of your phone in public spaces and your pockets, and follow your instincts. They are usually always right.
Where is it cheapest to live in Spain?
Madrid, the capital of Spain tends to be on the expensive side, along with Barcelona in the northeast corner of Spain.
Traditionally, the southern region of Spain is less expensive, while also offering an amazing quality of life, tapas-galore, summer-like weather all year round, a slower pace of life, and generally less expensive rent prices and living expenses.
Is it easy to live in Spain?
It depends on what you're willing to exchange for something different from what you're used to.
What I mean by this, is if you're used to (and really love) efficiency, quick responses, immediate and prompt solutions, and appointments, etc.) living in Spain may be a bit difficult for you to adjust to.
However, you're exchanging the lack of immediate and prompt, for relaxed, smell-the roses type of life where you walk everywhere and live the kind of life where you live each day more intentionally. You know?
I say it's definitely a great experience to get to know yourself, practice patience (which is such an important skill we often lack in the States), learn how to actually slow down and appreciate moment by moment, and I've learned how valuable that is.
It's important to have moments when we aren't rushing, feeling pressure from all sides, learning how a new part of the world functions, and feeling like a toddler exploring the world for the first time.
These are the moments when inspiration hits.
The answer you've been searching for lands right in your lap, and you get to start to think for yourself, rather than what is expected out of you. Truly.
Being in a country that does one thing when they mean another, and still see how they function and somehow still work well every day, inspires you to think that life will always find a way of working itself out.
A bit cheesy, but true. If you know, you know.
What are school hours like in Spain?
Typically the school hours are from 7am-5pm – which was a shock to me if I am honest.
When I first got the email describing this to me, I was still in the States, and couldn't imagine how that could be.
Until I arrived there, I realized the reason why is because of the long lunch hours that the students and teachers get, where many students actually walked home and had lunch with their families, and then they'd come back to school – how wholesome and unheard of here in the States!
Also, I noticed they had different classes throughout the day, like chess class (yes, you read that right), different languages like English, French, and German, music and tech classes, etc.
They were busy all day!
But it works out for them because then kids aren't in daycare and they get picked up when their parents get off work…
Anyways…
This doesn't mean you'll be working the whole time, you'll have breaks throughout the day, as well as lunch.
Maybe it will vary from school to school, but I definitely had more than a few lunch hours last from half an hour to 2 hours – enough to go out for a walk after lunch and run a quick errand and still go back to work.
In terms of how many hours a week you may work – I worked 22 hours a week and always had Fridays off.
So it was extremely tempting to go on a weekend trip every weekend!
But I know that not many had Fridays off, and often worked the whole week – so it will vary from school to school.
​​Do you need to know Spanish to teach English in Spain?
Yes and no!
Because your main job is to teach English to your students, and in some cases, if you do speak Spanish (like me) the school will ask you not to speak any Spanish to your students or let them know that you can understand them, or else it may make them lazy to learn English.
At least, that's what I was told.
The program and school do not require you to speak Spanish, however knowing at least a few phrases can and will help you a lot in your day to day, from ordering a coffee, asking for help if your train isn't coming and you don't know if you're at the right stop or other life situations.
It's also way easier to make friends with locals when you know the language!
It takes a while to make friends with Spaniards, in my experience, which isn't a bad thing, but just be forewarned.
And if you can speak at least a bit of Spanish, it will definitely help you make the connection rather than waiting on them to approach you.
Is staying with a host family better in order to save money?
It was my personal goal to learn and live within the Spanish culture because I was so fascinated with it.
Being Mexican-American, speaking Spanish as my first language, I had immense interest in learning how the Spaniards lived and what they ate, and how they lived overall.
It's also the anthropology nerd in me, I suppose as to why I wanted this experience, that for me outweighed living on my own in Madrid city-center.
I realized for me, this is likely the only time I will be able to have an opportunity where I get to live with a host family and be like another member, for a whole year.
I can always move to Madrid, and live on my own, but I can never have the experience of living with a host family, and them taking me in for a year.
If you live with a host family, you get paid around 500 euros, if you live on your own, it's around 1,000 euros.
Take away the expense of rent, food, utilities, etc. from living on your own, and you may end up with less than 500 euros a month.
I explain it like this not to say one is better than the other, but simply to explain that regardless, you're not making a lot of money, to begin with, and in either situation, you're gaining either that independent, fun, and free city life in Spain, or you're gaining a cultural experience where you get to eat home-cooked Spanish meals, listening to Spanish all around you all day, get invited on family trips (on some occasions) and spend holidays and experience what it's like in a foreign country – it's not lonely either.
It's really up to the experience you're looking for!
I hope this guides you a bit closer to what works best for you!
Have you taught anywhere else? Any places you would recommend teaching?
I have not, but I did meet a person while in Spain that had taught in 5 plus countries all over the world, from Japan, to Dubai, to Spain and Mexico, and other people that taught in other countries as well.
When I asked them what their favorite place to teach was thus far, their answer was Spain 8/10 times.
Some left after their first year, only to return to Spain to teach again, and others remained teaching in Spain for 5 more years!
So, I think that says something!
And if you're wondering what region within Spain to move to, I would start by studying the main cities, where they are located, and asking yourself again what your goals are.
Do you want to live near the beach? Do you like rainy-chilly weather? Do you prefer sun? There's a lot of variety in Spain for every preference!
Spain – it has an allure you have to experience to really know.
How do I apply for a teaching job in Spain?
Typically, you do a Google search of programs that guide interested people through the process, answer questions, and such.
Take a look at their website, and look for what they will do for you, dates for applications, request information if you find that you like their program, and the rest is pretty much guided by them.
There are tons of programs out there such as CIEE.org, GoOverSeas.org, and a few other good ones too!
I went with Meddeas because as luck would have it, they had a booth at my college's job fair during my senior year, and I went without thinking much other than how cool it'd be to move to Spain after college.
Looking back, I know I manifested that experience, but that is a story for another blog post.
Should I teach English in Spain?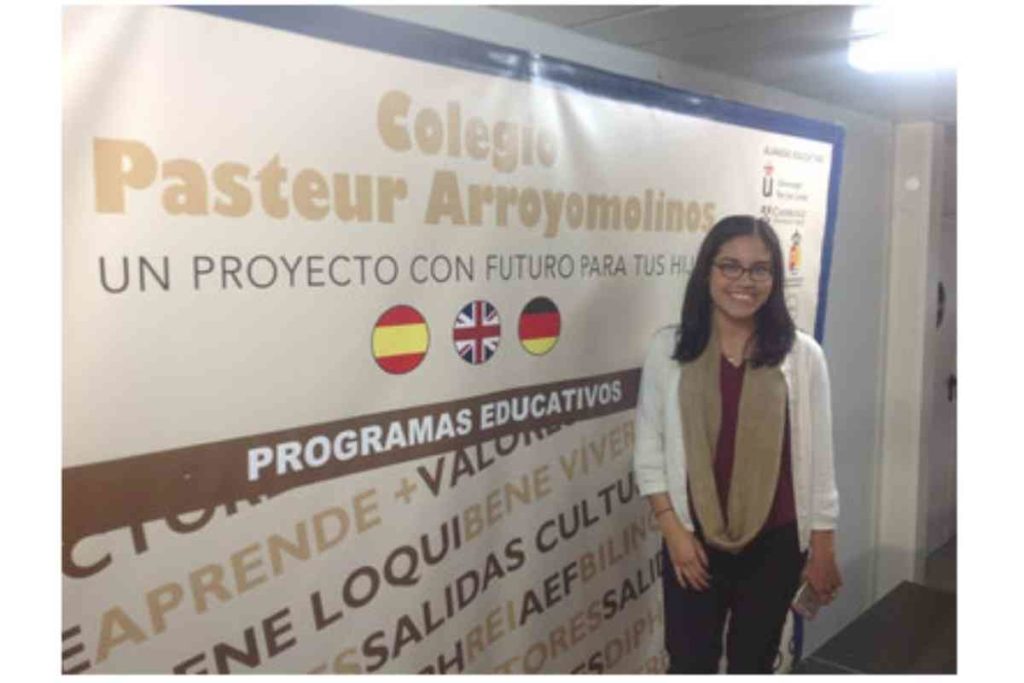 If you want to experience a year of growth, learning, amazing experiences, a wonderful culture that teaches you patience, quality, and faith that everything ends up working out, and a free small meal with every drink you order at a bar, then yes – you should teach in Spain.
But in all honesty, yes.
I can speak about this until the cows come home.
Teaching in Spain will give you more lessons than you will teach your students, it will sharpen your professional, intercultural, language skills, and massively boost your self-confidence that if you can move to another country, figure it out, and travel it, you can do a lot more than what you realize.
Whether or not you want to actually be a teacher, or you studied education at school, everyone should consider this opportunity.
You really never know what may come out of it.
It's a chance worth experiencing, in my humble opinion.
Concluding thoughts on teaching English in Spain
I can say only so much about this experience, but honestly, I don't want to make this post any longer than it already is.
I hope that this post helped you gather an actual person's experience because I know that it's what I always look for.
Any company can write what they want, but a person will always be more truthful.
And I hope I provided that for you today.
If you're considering teaching English abroad, don't hesitate and start researching!
Take a look at dates to apply, programs to consider, and blogs and YouTube videos with people's experiences.
Get informed.
You can also email me at maritzac@travelnotesandthings.com if you have any other questions, or even quicker, leave a comment down below and let me know what you think about teaching English in Spain!
Have you done it? Let me know how it was for you too!
To more travel moments like these ✨
Like it? Pin it!