6 Midwest Spring Break Destinations To Visit This Year
This post may contain affiliate links meaning that when clicked on, I may receive a small commission at no cost to you. It's a great way to support bloggers and content creators, but if you'd like to know more, you can search "affiliate disclosure" in the search box to learn more.
Places to visit the Midwest in March | Midwestern spring break | fun spring break ideas | driveable spring break destinations | Michigan | Ohio | Wisconsin | Illinois | spring break destinations | State Park |
It's that time of the year again – the first trip of the year for many – spring break!
I don't know about you, but the thought of Spring alone makes me happy, especially after a brutal winter.
Maybe it's the slightly sunnier days, the tulips starting to bloom, and the thought of Spring Break around the corner, it's definitely a happier vibe and for many, it's the unofficial start of the travel season.
Though destinations such as Mexico or other warmer climates may come to mind when imagining Spring Break destinations, I wouldn't forget about some of the amazing, and uniquely beautiful places to travel around to in the Midwest.
In today's post, I want to share with you some of the most beautiful, unique, and interesting Midwest spring break destinations to check out this year, whether you're looking for local ideas, or you're planning to visit family in the Midwest.
These ideas are meant to inspire you to look further into activities, and sights to check out while visiting the Midwestern region of the US.
Why should you plan a Midwestern Spring Break?
When you think of the best places to plan a spring break trip to, the Midwest may not be your idea of warmth and beach.
True.
The temperature is climbing up to the low 50's, and some places in the Midwest may even feel a bit cooler. However, Spring in the Midwest is quite a beautiful sight to see.
From the beautiful and colorful Tulips starting to make their appearance, and add color to the natural landscape, to the hospitality and friendliness of the people here, as well as affordability, and much more.
Spring Break here may be significantly less expensive in comparison to some of the most popular Spring Break sites to be at.
Oh, and less crowded too!
While Spring Break may look a bit different up here in the Midwestern region of the U.S, you can rest assured knowing that there are plenty of things to do and explore during your Spring Break visit that are special and unique to the Midwest in March-April.
What is there to do in the Midwest in March?
Considering the fact that many across the U.S. have Spring Break all throughout the month of March, you can rest assured knowing that you will find something just about every week of the month happening!
From beautiful flower festivals to food festivals, parades, plenty of world-class indoor attractions, and more!
Truly, there are some things you just have to experience here in the Midwest, that you can't ever get elsewhere.
From its unique mix of world-famous cosmopolitan cities like Chicago, blended with the small-town charm, open fields, and iconic plains of this region – the Midwesterns know how to have fun, put on a good festival, and welcomes everyone to join.
It's a unique experience to have yourself at least once in your life, and I hope this post helps give you an idea and travel inspiration to get started on your Spring Break plans in the Midwest.
Where should you go on vacation in the Midwest, you ask?
Like it? Pin it!
The Best 6 Midwest Spring Break Destinations To Plan Your Trip
Explore Local History in Door County, Wisconsin
If you're a reader of the blog, then you KNOW how much I love a good road trip to Door County.
Just a 3-4 hour drive from Chicago.
Door County is a very quaint, very beautiful place to explore during Spring Break, with one of their unique experiences such as the Guided Winter Hike, where you will get the customized experience to explore the natural landscape of Door County, learn about the native animals, vegetation, and more!
Another unique and awesome experience to catch while you're visiting Door County is the Northern Lights.
While according to the official Door County site, you can experience this magical sight anytime throughout the year, so why not check it out when you're in town? Follow and track the aurora borealis in the midwest by checking out sites like The Great Lakes Aurora Hunters Alerts on Facebook to see if you can coordinate your Spring Break around this time.
Other than that, you can pretty much customize your Spring Break trip to Door County-based on any of your likes.
From wanting a historical trip, arts and culture, relaxation and wellness, or weird and unique.
Check out their site to get the most updated information to start planning your Spring Break trip!
While you're there, don't forget to stop by and grab some of the best wood-fired pizza at Wild Tomato – honestly, so freaking delicious! With locations in Sister Bay and Fish Creek,
Click here to check out their menu, and what others have to say about their experience and food!
Explore Local Traditions and Try New Food in Chicago, Illinois
Chicago is a bustling city that will have numerous reasons to visit time and time again no matter the season however visiting during Spring Break shouldn't be missed! In the month of March, you can expect many events happening in the city, from the fun St. Patrick's Day parade, which is a city-wide festival where the city and its people dress up in green (literally, even the Chicago River gets dyed green).
If you want to really get the local experience, buy a ticket to the Chicago River Crawl, where you'll gain entry into some of Chicago's top bars located in the River North area while enjoying the live music with bagpipes and other Irish music.
The St. Patrick's Day parade is a seriously fun time, and one not to miss if you're here on March 12th.
Check out Restaurant Week in the city, which is an amazing way to experience some of the city's best gastronomy, and it's happening in the week of March 25th-April 10th.
For a set price, you can join in and experience a prix fixe menu for either brunch lunch, or dinner.
Such a great way to experience the best of the food scene in Chicago!
To purchase tickets to this event, click here.
Get You Nature On For Spring Break in Ohio
Ohio is home to the Rock and Roll Hall of Fame, college football, and Cedar Point – all of which are great options to explore during Spring Break and any other time of the year, however, let's talk about nature in Ohio.
Ohio is also known for its stunning national and state parks such as Hocking Hills State Park in Logan, Geneva State Park in Geneva, Burr Oak State Park in Glouster, and many more!
With around 75 state parks, you can make it a road trip and explore some of the most stunning, and beautiful state parks in Ohio.
And hey, if you're up to it, maybe even set up camp for the night and stay overnight!
Experience Spring Break St. Louis, Missouri Style
Spring in St. Louis means outdoor activities, sights, and neighborhoods to explore.
Whether you're traveling with family or with friends, a visit to St. Louis' Botanic Garden is a MUST!
Exploring the almost 79 acres of blooming gardens where you can see everything from tulips, cherry blossoms, daffodils, peonies, azaleas, and more! While exploring the beautiful gardens and grounds, explore the historic sites such as the Linnean House, which is the oldest greenhouse west of the Mississippi, the Climatron, which is the first geodesic dome to be placed in a conservatory, and Sachs Museum, a museum collection of local art pieces, artifacts, and more.
Catch the stunning views of spring colors, especially after a cold, brutal winter. Find tickets to the Missouri Botanical Garden here!
Exploring the neighborhoods, from Delmar Loop, The Hill – St. Louis' Italian neighborhood with amazing Italian food, Lafayette's Square – French-inspired neighborhood lined with Victorian homes, and beautiful coffee shops and restaurants, is a must!
To get some real St. Louis vibe, check out Soulard – live music, St. Louis style food, farmers markets, a lot of hometown pride, and more!
For more information on more neighborhoods to explore, check out this map for more!
Lastly, if this is your first time in St. Louis, you have to make sure to make a stop at St. Louis Gateway Arch, and take in the views either from the ground looking up or from above looking down and around.
Get views of the famous Mississippi River from the sidelines, or on a boat! Enjoy lunch or dinner on one of their famous River Boats, with different themes, and for all interests!
Check out their website for tickets and times.
Explore Michigan's Magnificent Flower Festivals and Sites This Spring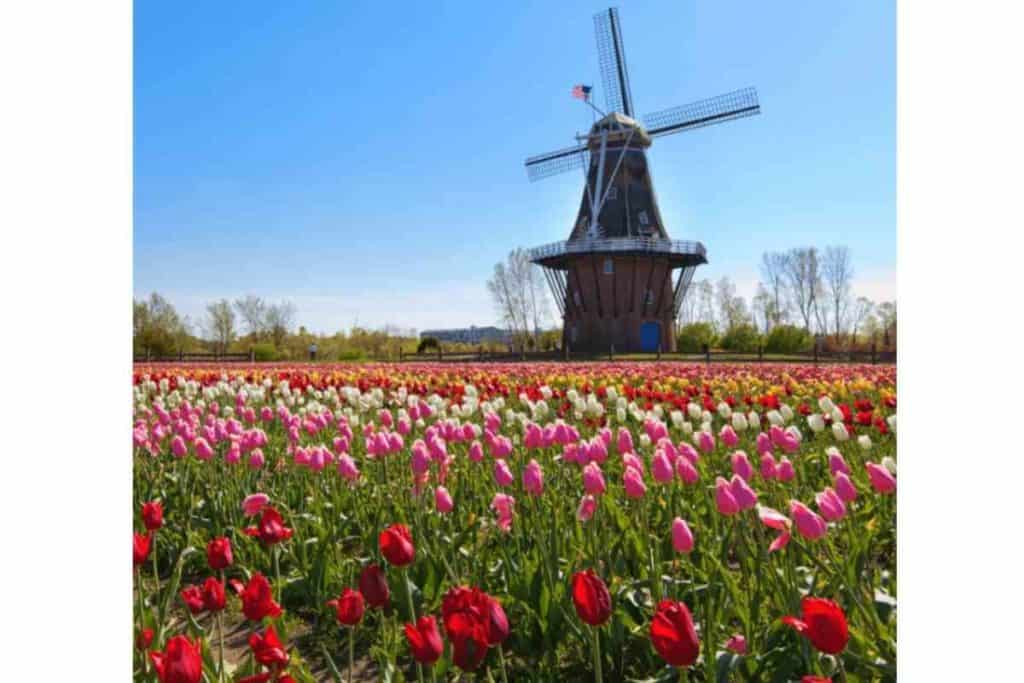 Michigan is a very beautiful state, and this Spring, you could explore it yourself by visiting some of its top spring break destinations, such as beautiful Mackinac Island where you can walk through the picturesque pedestrian-only streets throughout the island. Here you can also hike around the beautiful island, and view one of its natural monuments, Arch Rock.
Visit Detroit and explore The Henry Ford – 3 part attraction which includes the Henry Ford Museum of American Innovation, Greenfield Village (opening mid-April), and Ford Rouge Factory Tour – all of which in combination exhibits in their words "American culture, inventions, people and can-do spirit."
Explore the historic Greenfield Village and take a step back in time during the time of major inventions, and step into the museums to learn about the history of American-made creations.
And while you're there, explore one of its beautiful farmer's markets such as Eastern Market.
Can you imagine taking a stroll through a field of tulips like you would if you were in Holland?
You can, actually. In Holland, Michigan that is.
Brimming with Dutch heritage, a trip to Holland in the Spring means a trip to these beautiful tulip fields.
Explore the many festivals that occur during the month of May, where you can go on a walking tour of the fields of around 5 million types of flowers (yes, you read that right!) where you'll learn the history of the tulips and their journey to Michigan, visit during an artisan market, visit during the Tulip Time Carnival Midway if you have kids, and of course, go shop your favorite tulips to decorate your own gardens if you'd like!
Be sure to book your tickets for any of these activities ahead of time.
And lastly, speaking of flowers and nature, Michigan has some of the most beautiful state parks in the Midwest.
Visiting in the Spring means exploring wildflower hikes and trails, and other beautiful Spring sites such as Sleeping Bear Dunes National Lakeshore, Loda Lake National Wildflower Sanctuary, and Pictured Rocks National Lakeshore.
The Ultimate Midwest Spring Break Destinations and Route
So maybe you've made it this far, and you realize that there are some pretty cool and unique things to explore in the Midwest for Spring Break.
Maybe you're discovering that a road trip may also be calling your name.
Why not combine many of these destinations (and more because this is just barely scratching the surface) and drive down one of America's most famous routes?
Route 66 is an iconic road trip that many Americans, as well as tourists, dream of driving one day, and exploring for themselves.
While the whole journey is around 2,448 miles and goes from Chicago to L.A. you could make it a trip to explore at least a stretch of it.
Journey down from Chicago to St. Louis on Route 66, or from Chicago to Oklahoma City, or wherever you feel you'd like to go on this famous route.
If you're up to it, take the route all the way to L.A. and cross it off your bucket list this Spring Break!
Talk about quite the iconic journey.
Another famous road trip idea (local to the Midwest) is a drive around Lake Michigan! Explore some of the beautiful small towns that reside around Lake Michigan, and explore snippets of 4 states – Illinois, Indiana, Michigan, and Wisconsin.
I've done it, and it truly gave me a deeper appreciation for the Great Lakes and the Midwest in general.
The lake is beautiful, and the towns around are very charming.
Definitely, a road trip to do at least once in your life!
Where Will You Go This Spring Break?
I hope this post inspired you with some ideas and suggestions on Midwest Spring Break destinations.
The truth is, there are so many beautiful places throughout the Midwest, that make them unique.
Not just because of the sights, places, islands, famous routes, or historic attractions, but also because of its people.
I can't really describe it, but there is just optimism that is felt during this time of year amongst Midwesterners.
Coming out of a dark, cold, blustery winter, and onto brighter, warmer, longer days where we can start to hear the birds chirp and the tulips start to bloom – it changes people's moods and really makes people feel happier.
You can feel it. Along with the nicer days.
Are you planning a Spring Break Trip anytime soon?
Are you thinking of looking around for ideas to explore in the Midwest or are you planning elsewhere?
Let me know in the comments below, I'd love to know where you're headed!
To many more travel moments like these.
Like it? Pin it!