4 Days In Mexico City – The Complete Guide For First Time CDMX Travelers
This post may contain affiliate links meaning that when clicked on, I may receive a small commission at no cost to you. It's a great way to support bloggers and content creators, but if you'd like to know more, you can search "affiliate disclosure" in the search box to learn more.
Mexico City Itinerary | Frida Kahlo Museum | Visiting Mexico City | Mexico City Trip | Chapultepec Park | Historic City Center | Roma Norte | Anthropology Museum | Bellas Artes | Teotihuacan | Chapultepec Castle | Xochimilco | Diego Rivera | Casa Azul
4 days in Mexico City, can we do it?
Yes, we can now that you've found your way to this guide.
Did you know that Mexico City (CDMX for short) is the 5th most populated city in the world, and the 2nd most populated in the Americas?
With over 21 million inhabitants, and 31 million recorded international tourists (in 2021), Mexico City has grown from its humble but firm beginnings dating back to 1325 when it was known as the ancient city of Tenochtitlan to a sprawling city with so much to offer, no matter your interests, budget, or the amount of time that you'll be visiting for.
One thing is for sure, as you can imagine based on its size and population, Mexico City is not the kind of city that you can "do" in 4-days or even 7-days, completely.
In the handful of times that I've been to this magical but chaotic city, I feel like I've scratched the surface because every time I visit, there is something new to see or do.
Mexico City has a lot going for it, as you will see, and once you visit for the first time, you will get that same sensation, and soon enough, you'll be booking your flight to Mexico City many more times to come.
It can get quite easy to feel overwhelmed quickly by so much (these stats are no joke!) but in today's post, I want to simplify that for you and show you a sample itinerary of 4-days in Mexico City – so you can plan some amazing activities to take part in and explore while you make your visit to this amazing city (which happens to be the oldest capital in the Americas).
Like it? Pin it!
Are 4 days in Mexico City enough?
Having visited Mexico City for 3 days and up to 5 days at a time, I can say that 4 days is a good amount of time to spend exploring Mexico City.
Obviously because of the city's huge size and having many things to do, see and experience you will not be able to see all of Mexico City in just 4 days.
However, this is a good starting point so that you can get enough of a lay of the land and see what you liked about Mexico City and what you didn't and what you think is worth seeing the next time you are visiting.
How can I prepare for my trip to Mexico City?
In today's post, I'll be sharing the ways that you can start preparing for your 4 days in Mexico City, from how much money to bring to being safe in Mexico City, to what to eat, where to stay, and what to do.
My first piece of advice on how to plan for your trip to Mexico City is to confirm how many days you plan on visiting and how much money you plan to bring.
Where to stay in Mexico City?
Mexico City has many different neighborhoods and areas within the city to stay in.
It simply just depends on what you're looking to experience.
If for example, you are looking to stay within walking distance of all of the main sites and attractions then definitely consider staying in the Centro Historico or The Historic Center.
However, if you are looking to have a more local experience to see what it's like to live in the neighborhoods of Mexico City, each having its own vibe, experiences and attractions then definitely consider looking into the many different neighborhoods and areas such as…
Roma
La Condesa
Juarez
Colonia Napoles
Centro Historico
Reforma
Polanco
Santa Fe (further away, but if you want an upscale, quiet, and new neighborhood – this is the one)
Coyoacan (is also a bit further away to walk to the main attractions, but this area has its own notable attractions such as La Casa Azul (Frida Khalo's childhood home).
Having stayed in both the Historic Center and in a few different neighborhoods throughout Mexico City, and Reforma avenue, I would say that I recommend neighborhoods such as Roma, Condesa, and Juarez, if you are looking for something more local and if you're looking to stay near some of the best restaurants and food experiences in Mexico City.
How do I get from Mexico City airport to downtown?
There are many different ways that you can get to downtown Mexico City from the airport.
One of the most common and recommended ways to get from Mexico City airport to downtown is Uber, which I recommend.
Safety tip for Ubers in Mexico City: As a safety measure each time you get into the Uber, confirm before getting in that it's your Uber by asking them who this Uber is for, and once inside you can sit in the seat diagonal from the driver so you can keep an eye on the map on their phone. You can also keep track of the journey by following along on Google maps.
However, something I learned on my recent trip was that if it's a really busy weekend, Ubers may not even be able to get into the airport, so you may have to rely on other ways to get to your accommodations.
There are authorized pre-paid taxis at the airport which are also a safe alternative for when Ubers are not possible.
If you do go with an authorized taxi service you can buy a prepaid ride at the airport either inside the airport or at the exit.
They are easy to spot, and they are secure. The price ends up being around the same amount that you would spend in an Uber.
The car journey is around 30 mins on a good day, but definitely don't be surprised if the minutes start to add up.
If you want to you can also take the metro there is a metro bus that can also take you downtown too.
Airport to Historic Center
Metro Bus: From terminal 2, get on Metro Bus #4 San Lazaro, and get off at San Lorenzo metro station, to get on Metro Bus #4 Buenaventura to Republica de Argentina and walk 3 mins. to Historic Center (34 mins.)
Metro: From the terminal area, get on the yellow line Politecnico to Oceania, transfer at Oceania, and then get on the green line to Lagunilla. Get off at Lagunilla and walk 12 minutes to Historic Center (41 mins.)
Is Mexico City walkable?
Absolutely! Mexico City Is a very walkable city.
Again depending on where you stay in the city, some attractions may be closer or farther away from you, but that's okay because there are many ways to move around the city.
Ways to get around Mexico City range from the public transportation system such as the metro, the metro bus, the bus as well as Uber to of course walking.
If you are someone who likes to explore a city on foot then Mexico City is definitely a destination for you to check out.
The more you walk throughout the city the more you'll start to recognize different city streets and avenues as well as different sites and points of attractions.
That is the beauty of Mexico City – the fact that there are so many different museums and attractions and sites that it's easy to understand where things are around the city relatively quickly if you explore it on foot.
Money tips for Mexico City
As far as how much money to bring for 4 days in Mexico City, This will mainly depend on the type of experience you are looking to have as well as your budget.
The currency used in Mexico is the Mexican peso (MXN), which at the time of writing this post, it's around $19 MXN to $1 USD.
I used the free foreign currency converter app XE Currency and Money Transfer app to reference the value from MXN pesos to USD, which I recommend if you want to keep tabs on how much you are paying for different things while in Mexico City.
If you want to do the mental math, you could also use the formula:
peso amount / current price of Mexican peso = price in USD
Keep in mind that the exchange rate will fluctuate depending on when you go, however, this is a good starting point for you to see and be able to calculate how much you may spend for yourself within 4 days in Mexico City.
Most restaurants, ticket booths, and stores accept credit cards and debit cards such as Visa and MasterCard so you can pay for a lot of your trip with your cards however if you do want to get that experience of eating tacos from street vendors or buying fruit from the ladies selling down the street, or you want to buy Mexican snacks and Aguas Frescas (fruit-flavored water) in the streets, then I definitely recommend that you bring cash for that as that is all that they accept.
***
A quick word on tipping
If you can bring money to tip, or simply give to people who may be asking on the streets, consider this when exchanging currency for your trip to Mexico City.
In Mexico City, and Mexico in general, I notice that most people rather than asking you straight up for spare change, will ask you if they can sing a song for you, clean your shoes, perform a magic trick for you, or something in exchange for a tip.
As soon as you get to Mexico City, it's good to have cash on you so you can offer a tip to those who help you.
So, it wouldn't be a bad idea to have a few coins on hand.
Keep in mind, a tip in Mexico is not the same as a tip in the U.S. – you don't have to be giving out $5-$10 USD per service, people will appreciate anything you'd like to give.
Tipping is encouraged at restaurants after good service, in which case the waiter at the end of the service will charge your card tableside at the time of payment (instead of taking the card away and charging at the register like in the U.S), and then will ask you what percentage you would like to leave for a tip if you're paying with a card. It's usually 10%, 15%, or 20%.
***
Mexico City is a relatively inexpensive destination especially for U.S. travelers so you can average spending around $30 USD to $60 USD a day on food. If you want something more luxurious, then I would say around $70 a day, but it all depends on you.
Truthfully you could probably spend a little less than that per day if you really wanted to and still eat very well Mexico City has tons and tons of food options from Mexican traditional dishes to food from all over the world, from eating on the side of the street from a street vendor to having a high-class meal experience at a 5-star restaurants Mexico City truly has it all.
What should I eat in Mexico City?
Mexico City being the capital of Mexico means that you will be able to get a sample of each of the different Mexican regional cuisines – all within the city, which is great!
For instance, a nationally and internationally recognized cuisine to try within Mexico is the food from the state of Oaxaca.
Oaxacan food is most notably known for its use of insects such as grasshoppers within its traditional foods, as well as a dish called Tlayuda, which resembles a Mexican-style pizza usually topped with refried beans, meats such as chorizo and tomato slices with lettuce, and a salsa drizzle.
However, if you are looking for traditional dishes you can't go wrong with…
Tacos de al pastor – a marinated meat that is served in a taco with slices of pineapple.
Tacos de barbacoa
Tacos de bistec
Tamales
Quesadillas
Mole
Gorditas
Garnachas
Pambazos
And as far as Mexican breakfast items check out…
Chilaquiles
Huevos rancheros – country style eggs
Huevos divorciados – "divorced" eggs – 2 sunny side up style eggs served each with a different salsa on it such as green and red salsa
Huevo con chorizo – scrambled eggs with chorizo
Huevo con jamon – scrambled eggs with ham
Breakfast pastries and traditional sweet bread include…
Conchas
Puerquitos
Orejas
Elote
Cuerno
Is México City safe?
There is a common misconception thanks to international media, which portrays a dangerous image of Mexico, anything from cartels and drugs, to kidnappings, and attacks on innocent people.
The thing about Mexico City, however, like many other big cities in the world is that you have to always be aware and vigilant of your surroundings.
Petty crimes like theft can occur, but they happen in other places too.
Just like with any other large city in the world, Mexico City has its safe areas as well as its not-so-safe areas.
Depending on where you are visiting in the city you may be risking a little bit more, but that does not mean that the most visited sites are brimming with danger.
Some of the neighborhoods that I will be sharing in this blog post also report very low crimes and dangers to locals and visitors alike.
Is it safe to walk in México City at night?
Again this depends on where you are in the city but if I'm giving you my honest and personal opinion – I truly felt safer walking in some of the areas in Mexico City where I stayed when I compared it to walking at night in Chicago.
I'm just going to leave that there.
Don't go out super late if you don't need to, but if you need to, just be watchful or go out with others if you can, and you'll be ok.
If you were to ask a local in Mexico City what some of their least recommended places to visit, some may mention an area called Tepito. I know I have.
But guess what?
There are no sites to visit or anything really worth your interest as a visitor to explore in areas such as Tepito, or other places like this.
My point: the places with the sights that you want to see the most, especially as a first-time visitor in Mexico City and especially if you're only spending 4 days in Mexico City, are not located in the dangerous areas of the city.
​​My best recommendations for safety when it comes to visiting México City are the following:
Make sure you know where you're staying, do research on neighborhoods, and where you'd like to stay, so you feel comfortable walking outside on your own or with others. Popular and safe neighborhoods include Polanco, Condesa, Roma Norte, Centro Historico, and Santa Fe.
Do a walking tour as soon as you can, to get a lay of the area, know where things are, and hear them all from your local guide.
Don't be too flashy with your clothes – be casual, and don't draw attention to yourself with what you're wearing. Don't make yourself stand out not only like a tourist, but like a clueless and gullible tourist, keep an eye on your belongings.
In crowded areas, wear your backpack in front of you if that makes you feel more comfortable.
Mexico City literally never sleeps – there will always be people out at all times, so don't feel scared that you have to walk somewhere at night. However, if that's not your jam – take an Uber, they are completely safe and super accessible all throughout the city.
Is México City good for tourists?
There is a reason why 31 million International Travelers visited México City in 2021.
With its gastronomic reputation, Its world-class culture and deeply-rooted traditions and celebrations, its notable figures that have impacted not only Mexicans but the world, and its warm, hospitable, helpful people – The capital of Mexico is nothing short of amazing.
There is something for everyone – From food, budgets, travel style, experience, and more.
Mexico in the most recent 10 years or so has been so good to tourists that many have moved to Mexico City specifically, especially during the pandemic as the rise of remote work hit its peak.
I can't find the specific number for how many expats moved to Mexico City in 2020 however in the last 10 years or so within the country of Mexico, approximately 1.1 million expats have moved to Mexico and have called Mexico their home.
So don't be surprised if you are walking through Mexico City and you hear languages from all over the world.
Is English spoken in México City?
Just because there are many expats living in Mexico City doesn't mean that you will find a lot of English speakers within the city, especially your local grocery store workers, the man selling tacos in the street, or the people working at the cafe.
However, rest assured that places such as the airport, main tourist attractions (some), And even some restaurants will have staff and employees that are bilingual in English and Spanish.
Just don't assume that everyone speaks English, and try to learn a few Spanish words before your travels.
Sometimes you may get lucky and be sitting next to someone who understands English and Spanish and they may be able to help you out – again because Mexico City is quickly turning into an international hub.
Spanish is the recognized main official language of Mexico with many other indigenous languages being recognized however Spanish is the main language that you will hear.
As an international visitor, I recommend that you pick up some basic phrases and words such as
Thank you (gracias)
Yes (si)
No (no)
How much is this? (¿cuánto cuesta esto?)
Where 's the bathroom? (¿dónde está el baño?)
Help (ayuda o auxilio)
Is this very spicy? (esto tiene mucho picante?)
Although that last one may be tricky because Mexicans will tell you something isn't spicy (for them) when it may definitely be for you.
But just in case, it's not a bad phrase to have in your back pocket.
Learning some helpful and basic words/ phrases in Spanish will definitely go a long way when traveling to Mexico, so brushing up on some of them is a good idea!
How To Spend 4 Days in Mexico City
Day 1 (Thursday): Visit Historic Center – Centro Historico – Zocalo, Metropolitan Cathedral, Templo Mayor, The National Palace, Palacio de Bellas Artes, Torre Latinoamericana
Welcome to Mexico City! Time to explore the city and all that it has to offer and as you know by now the size of the city is huge so there is no time to spare and lots to explore.
Depending on what time you fly into Mexico City (if you're flying in from Chicago for example, there's a chance you'll get in at the crack of dawn-5am- or later in the day (7pm).
In this case, let's pretend you arrived on an early morning flight, and you dropped off your luggage at your hotel or Airbnb.
The first place to explore is the historic Center of Mexico City also known as el Centro Historico.
This is the older part of the city, where you will find emblematic and iconic Mexican historical markers learning about them on your first day will help you get an idea of the history of Mexico City and Mexico as a country which will help build a foundation for the rest of the history and culture that you'll learn throughout the next 4 days in Mexico City.
I always recommend doing a FREE walking tour of any new city you visit, as it will help you get a good lay of the land, learn some street names, as well as get a chance to ask your guide for some food recommendations and other tips.
If you want to take a bus tour, I've also taken the hop-on-hop-off Turibus, which for the price, gives you all-day accessibility to see different and important parts of the city with its many hop-on-hop-off routes. I definitely recommend them if you want an option like that.
Breakfast: If you're going to be exploring el Centro Historico, fuel up with a delicious breakfast at El Cardenal, where they offer Mexican traditional breakfast dishes, such as chilaquiles, huevos ahogados, huevos con flor de calabaza, as well as sweet pastries and traditional hot chocolate.
Zocalo
The Zocalo is the Main Square in Mexico City with the giant Mexican flag waving in the air – also known as the arms square or the Constitution Square.
This is a site of historic importance for not only Mexico City but Mexico as a country.
Before the Spaniards arrived and before Mexico was Mexico, the Aztecs were in search of a place to build a new great city, and when they stumbled across what is now the Zocalo they saw an eagle devouring a rattlesnake, which for the Aztecs, it was the sign that they had been looking for to indicate that that place where they saw the rattlesnake being devoured would be the place where they would establish their great empire and the capital of their empire called Tenochtitlan.
Nowadays the Zocalo is a very popular site for concerts, protests, the celebration of Mexican Independence Day, and many other activities for its citizens and visitors to enjoy.
The Metropolitan Cathedral
The Metropolitan Cathedral of Mexico City is one of the first structures that will catch your eye.
Constructed from 1573 to 1813 the Metropolitan Cathedral was built by the Spaniards during the conquest.
It is a structure that was built using materials from the pyramids that had been standing in the Zocalo before the Spanish arrived under the order of Hernan Cortez, so when you visit the Templo Mayor Museum and ruins, you'll see the resemblance in stone color between the ruins and the Cathedral. 
An interesting fact about Mexico City is that it is actually sinking at a rate of 20 in. per year and it does not seem to be stopping any time soon.
The reason for this is that Mexico City was actually built on a lake called Lake Texcoco.
When the Aztecs first stumbled on this land to build their new Empire, they decided to build their own man-made Islands by dumping soil into the lake.
When the Spanish arrived they destroyed the pyramids and used those ruins as foundations to build their own buildings and cathedrals, so quite literally, they added more construction on top of the ruins, which were on top of the man-made islands.
Something to look for inside the cathedral: If you go inside the cathedral you will actually find a pendulum that indicates and it is tracking how fast the cathedral and city are sinking and how it's been sinking year by year. You will also feel it as you walk through the cathedral as well.
Entrance: Free to enter, but there is a 3 pesos fee to enter some of the crypts that can only be paid inside if they are offering it and in cash.
Address: P.za de la Constitución S/N, Centro Histórico de la Cdad. de México, Centro, Cuauhtémoc, 06000 Ciudad de México, CDMX, México
Bonus tip: If you're visiting on a Wednesday, they offer an evening tour that allows visitors to go downstairs into the crypts of the cathedral and explore some of the obscure items and corners of the cathedral not usually accessible to the general public. Information is available inside the Cathedral.
Templo Mayor Museum
Next to the Cathedral, you'll see a few ruins that were left after the Spanish destroyed the pyramids to build their own city.
The ruins were discovered in the middle of the construction of the metro, around 1978. It's definitely a must-visit site to get a physical view of the ruins next to the cathedral, which is very representative of Mexico and Mexican culture and people today – the mix of Indigenous and European influence.
The National Palace
UPDATE: The National Palace is and has been closed during the pandemic, and on my most recent trip (March 2022) it was still closed. However if at the time you visit, it's open, then definitely step in!
The National Palace, which sits on where Moctezuma's home used to be, is now a government building in which you can go in for free, and explore some of the beautiful murals and frescoes by Diego Rivera, as well as take in the beauty of the inside of the palace's courtyard architecture, gardens, a room dedicated to past Mexican president Benito Juarez, and more.
Entrance: Free
Address: P.za de la Constitución S/N, Centro Histórico de la Cdad. de México, Centro, Cuauhtémoc, 06066 Ciudad de México, CDMX, Mexico
Lunch: Head over to Cafe de Tacuba, a beautiful church-turned restaurant in the heart of Centro Historico, offering Mexican traditional foods such as enchiladas, chiles en nogada, mole, and more! The beautiful art, history, and ambiance are enough to make you go inside but stay for the food.
Torre Latinoamericana (Latin American Tower)
After a very Mexican lunch, head over to the impressive Torre Latinoamericana, which not only serves as a point of reference to look up to and find your way around Centro Historico, but it is an important symbol and skyscraper in Mexico City.
One of the things it is most remembered as is the tower that survived many earthquakes without crashing, as well as the devastating earthquake of 1985. Up until 1972, it was considered the tallest tower in the world, and today, you can visit it yourself!
Visit the observation on top of the tower, and take in the stunning views of Mexico City that are truly unique. There's a cafeteria inside, but I've heard it's not good and it's overpriced but the views are stunning!
Entrance: $8.60 USD with entrance to the observation deck and the Mexico City museum, or $10.10 USD for the observation deck, Mexico City museum, and the Bicentennial Museum.
Palacio de Bellas Artes
Next up is the beautiful and iconic Bellas Artes Palace (translated into beautiful art palace).
Bellas Artes is a work of architecture that dates back to its opening in September of 1934 as a cultural center of art, music, and theater.
It took 30 years to finish, which is why it is considered to be an example of a mixture of three different architectural styles: Art Deco, Art Nouveau, and Neoclassical Architecture.
Inside you can expect to find more beautiful pieces of Mexican muralism from Diego Rivera, and other amazing and notable painters of the time, as well as temporary cultural exhibits, activities, and a museum.
Additionally, you can attend a show inside the majestic theater where many notable Mexican and International artists have performed. You can check out some of the upcoming shows to see if there is one that you'd like to attend!
Entrance: $80 MXN and an additional $30 MXN if you want to take pictures with a camera (this doesn't apply to phone photography) inside. The ticket can be purchased at the ticket booth, and it allows you to view the temporary exhibits, as well as the permanent museum.
Address: Av. Juárez S/N, Centro Histórico de la Cdad. de México, Centro, Cuauhtémoc, 06050 Ciudad de México, CDMX, México
Bonus tip 1: Sundays are free entrance for all Mexican nationals and foreigners.
Pro tip 2: If you want to get a stunning view of el Palacio de Bellas Artes, you can go to the Sears across the street, go to the top floor, and find a cute little rooftop cafe with stunning views of Bellas Arts and Alameda Central (the park next to Bellas Artes). The food here I heard is reasonably priced and decent.
Other amazing museums and sights to check out around Centro Historico:
Palacio Postal (Postal Palace) –
Casa de los Azulejos (The House of the Tiles)
Alameda Central (park)
Monument to the National Mexican Identity
Museo Nacional de Arte – MUNAL (National Museum of Art)
Museo Nacional de las Culturas (National museum of cultures)
Museo Mural Diego Rivera
Avenida Madero (Madero avenue)
Museo Banco de México (Bank of Mexico Museum)
Snack break: You have to stop by Churreria El Moro for some delicious churros and chocolate, or if you find yourself in Alameda Central (or really anywhere in the city) buy local snacks like potato chips with salsa, fresh-cut fruit, aguas frescas (fruit water), ice cream, and take in the park scene.
Dinner: If you want to stay within Centro Historico, you can check out some amazing tacos all over Centro Historico such as Tacos Aranda, or if you're looking for something with a view, check out the restaurant inside the Gran Hotel, called Terraza Gran Hotel for stunning views and delicious Mexican classics.
Day 2 (Friday) -Visit Coyoacan and La Basílica de Guadalupe
After a refreshing night's sleep, and gathering yourself after a day of walking – today you get to walk some more!
Bonus tip: Bring extremely comfortable shoes that will help keep you up with all the walking that you're going to get yourself into. Mexico City is a beautiful city that must be seen on foot, in my opinion.
Today, you'll explore Coyoacan which is the word for Coyote in one of Mexico's indigenous languages called Nahuatl, as well as stop by la Basilica de Guadalupe – an emblematic and traditional symbol of Mexican culture and faith.
Breakfast: Since you're heading to the beautiful neighborhood of Coyoacan, I would recommend you get breakfast at one of its many cute restaurants and coffee shops, such as Los Amantes cafe and bistro, for a delicious Mexican breakfast, or baked goods, or Cafe Avellana for coffee and pastry.
Coyoacan
Coyoacan is a neighborhood in Mexico City that is known mainly to be Frida Kahlo's home, but more and more, it's been growing in popularity for its cute coffee shops, restaurants, and markets.
I personally found this neighborhood extremely pleasant, tranquil, beautiful, and with the vibe of a small village in Mexico with its church, fountain, and gazebo in the main square.
It almost feels like you're not in the chaos of Mexico City!
La Casa Azul – Frida Kahlo Museum
If you're planning on visiting the Frida Khalo Museum, you definitely have to book your tickets online and ahead of time at a specific time/date, as they only allow a number of visitors per day, and this is because the Frida Kahlo Museum is actually her childhood home that got turned into a museum after Frida's death, by Diego Rivera. It's limited space.
I definitely recommend a stop by at least once and reading some of her iconic phrases on the walls, taking a look at some old family photographs, and of course some of her paintings while touring her actual home.
The garden is one of the most beautiful points in the home, so I definitely recommend strolling through it when you're there.
Entrance: weekdays: $230.00 MXN, weekends: $270.00 MXN – with your ticket purchase, you also get access to Diego Rivera Anahuacalli Museum also in Coyoacan. If you want to take photos inside, you need to pay $30.00 MXN.
Address: Londres 247, Del Carmen, Coyoacán, 04100 Ciudad de México, CDMX, México
Diego Rivera Anahuacalli Museum
Diego Rivera alongside Frida Kahlo was and continues to be an emblematic icon of the art world, both in Mexico and internationally.
Diego's art can be seen in many places throughout the city, from The National Palace to Bellas Artes Palace, and of course, within his own museum also in Coyoacan.
Browse through some of Diego Rivera's personal collection of prehispanic pieces, as well as some of his favorite pieces of art.
The building itself is stunning, as he designed it to be a building that married modern art and a pre-Colombian appearance.
Entrance: Free if you purchased your ticket to the Frida Kahlo Museum, or if purchased alone the price is $100 MXN.
Address: Museo 150, San Pablo Tepetlapa, Coyoacán, 04620 Ciudad de México, CDMX, México
Stroll around the Hidalgo Plaza Garden (Plaza Jardin Hidalgo)
A walk around the streets and parks of Coyoacan is definitely something not to miss, to get a true experience of this neighborhood.
The Hidalgo Plaza Garden is one of the many parks around Coyoacan, but this one is right next to the Church of San Juan Bautista, and a few steps away from the iconic fountain of the coyotes, which again is representative of the name of the neighborhood.
It's also in front of Artesanías Coyoacan, which is an artisan market that you should check out for gifts and beautiful items.
Snack: try some street churros, or a marquesita, which is a thin wafer rolled up into a slim taco, with different kinds of sweet fillings like cream cheese and strawberry jam, to savory ham and cheese – topped with gruyere cheese – so good! Or get yourself ice cream from the man selling it from his cart. Trust me, you'll know it when you see him (them) and I definitely recommend you get some, especially the lime flavor.
More than anything, I recommend that you take time to walk along the streets, visit some of the other parks and plazas such as Vivero de Coyoacan, or visit markets like el Mercado de Coyoacán.
Take in the sights, the food smells, sit on a park bench, and enjoy a snack for a bit.
Afterward head over to the famed and adored by many Mexicans, The Basílica de Guadalupe, also known as La Villa.
You can take an Uber to La Basilica from Coyoacan, or if you got the Turibus hop-on-hop-off day pass, you're able to get between Coyoacan and La Basilica.
La Basílica de Guadalupe
The Basilica de Guadalupe is a holy site not just in Mexico City, but in all of Mexico.
It is a site completely dedicated to La Virgen de Guadalupe (The Virgin Mary) who is believed to have appeared by a miracle to an indigenous man by the name of Juan Diego in the year 1531 on a rural hill.
The people decided to build the first basilica in her honor, which is still standing today and dates back to 1695 (and you can go inside briefly), and is standing next to the modern basilica which dates back to 1974.
Today you can enter both basilicas, and observe firsthand the adoration and faith that the Mexican (and many foreigners) have towards this religious and pre-hispanic icon, as well as walk the grounds and go up the hill to view the Cerro del Tepeyac (Hill of Tepeyac) which is the hill believed to be where The Virgin appeared.
There is a shrine dedicated to her appearance, as well as beautiful gardens, chapels, and amazing views of Mexico City from above.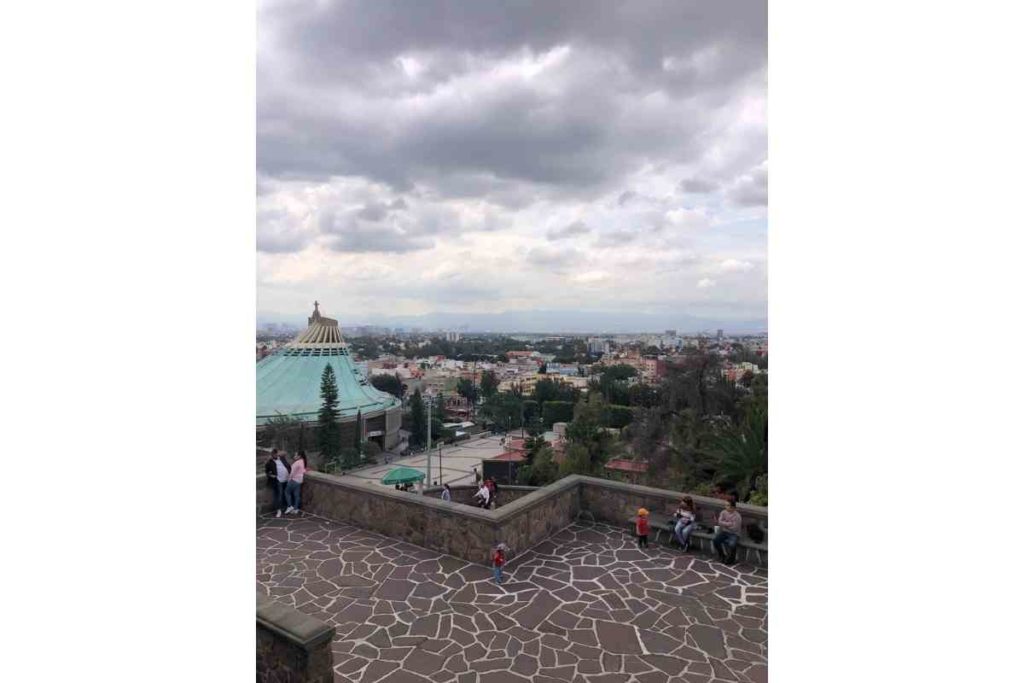 Entrance: Free
Address: Fray Juan de Zumárraga No. 2, Villa Gustavo A. Madero, Gustavo A. Madero, 07050 Ciudad de México, CDMX, Mexico
Lunch: For lunch, I recommend that you go back to the city and have lunch at Frëims for some delicious Mexican/American fusion foods.
Catch a show
Whether it's a concert, theater, soccer game, or Lucha Libre – you're nothing short of entertainment while you'll be visiting Mexico City, that's for sure.
If you're looking for a cultural show, I recommend getting tickets in advance for the beautiful Ballet Folklorico de Mexico de Amalia Hernández, which is a stunning show that showcases a little bit of each region of Mexico, through culture, traditional dance, dress, and music. It's truly a beautiful event!
If you're in the mood for something a little more lighthearted and truly from Mexico City, catch a Lucha Libre show, where you'll catch masked wrestlers fighting to win each other in the ring, with other entertaining activities.
If you're in the mood for some live mariachi, tequila, and fiesta, then head over to Plaza Garibaldi, where you'll be able to "rent" a mariachi group to perform songs for you as you get some drinks, or stay for dinner.
Dinner: Catch some street tacos in Plaza Garibaldi, or if you want a sit-down experience, head over to El Parnita in the Roma neighborhood, and enjoy Mexican classics like tacos, tortas, ceviche, and more.
Day 3 (Saturday) – A Day Trip – Teotihuacan, Xochimilco, Taxco, or wherever catches your eye
Day 3 can be a day where you get to choose your own adventure!
And you're in luck because just as there are things to do in Mexico City, there are also a few places worth checking out a little outside of CDMX. Let's explore a few options for you…
How to take a day trip from Mexico City?
There are many ways to move around and outside of the city center, many of which include Ubers, buses, trains, and tours with their own transportation. It depends on where you want to go when you want to go, and what kind of experience you're looking for.
Breakfast: If you're going on a day trip, chances are that you're going to get up a bit extra early, and may not be able to go to a sit-down restaurant for breakfast. I recommend stopping by one of Mexico's most adored corners of the world – a panaderia (bakery). Stop by La Esperanza (multiple locations across CDMX) or the traditional bakery La Ideal and grab a pastry or two and a coffee for a quick start to your day trip!
These are two popular and favorite day trips to choose from. These are day-long trips, so you'll just have to go back one day soon to do the other one!
Teotihuacan Pyramids
These pyramids represent an empire of wealth, power, and trade, especially in a shiny black and sharp rock called obsidian, which dates back to Mesoamerican times (A.D. 1 and 250).
It was a bustling metropolis that existed many years before the Aztecs ever encountered it, yet it's unknown exactly the group of people that lived there and constructed the pyramids.
Walk around, get a guide to really understand the impressive history and appreciate where you're standing, and marvel at the historic beauty.
There is the Pyramid of the Moon, which was used for sacrificial purposes and the Pyramid of the Sun was most likely used to honor a religious deity. To get between each, you have to walk through the Avenue of the Dead.
Teotihuacan is a fascinating site to visit for both the history, but also the state that they are in.
Entrance: 80 MXN includes entrance to Teotihuacan Culture Museum and Museum of Teotihuacan Murals.
Address: 55800 San Juan Teotihuacán, State of Mexico, Mexico
Xochimilco
Xochimilco is the word for "flower field" in Nahuatl and today it is a pre-Colombian town located 40 mins. Or so outside the city center, where you will find ancient canals and remnants of the wat4 daer systems that were created by the Aztecs.
Today, you can rent a colorful trajinera (gondola style boat) to take you for a ride along the canals, while being surrounded by food vendors, artisans, and mariachi bands, on their boats.
You can also take a tour to Xochimilco which will usually include the transportation to and from Xochimilco as well as another activity and a meal at a restaurant, or you can also go yourself by taking an Uber and paying for a boat.
I was skeptical of Xochimilco for a bit, but I was truly missing out! I definitely recommend it if you're looking for a good time with live music, food, and fun!
Taxco (only available on weekends)
If you're looking for a bit of an escape outside of CDMX, you can also check out the beautiful silver mining city of Taxco in the state of Guerrero. There are many tours that will take you to and from in one day, but if you wanted to go yourself, you could also schedule that.
The beautiful cobblestone streets, Spanish architecture, red roofs, and the cute beetle bug taxis driving around this hilly city, are definitely a great day trip idea from Mexico City if you're looking for something a bit further away. The journey is around 2 hrs. 42 min. One way.
To get there you can take a tour to Taxco from Mexico City, or you can go by bus by yourself.
Day 4 (Sunday) – Reforma, Chapultepec, and Museums
As you wake up on the last day of your 4 days in Mexico City, you might be wondering what you could do to spend your last few hours or perhaps a full day depending on what time your flight is.
If you have a flight that leaves around midday or even later in the day you still have an opportunity to either go to breakfast or even enjoy an extra Museum.
However day 4 will be planned as if you had all of the last day in Mexico City.
Breakfast: Depending on where you are in the city, if you're looking for a boutique breakfast spot, to check out Eno in the Roma neighborhood, or if you're looking for something a bit closer to Reforma while feeling like you're having breakfast in a garden, then check out La Ventanita in the Roma Norte neighborhood.
Reforma Avenue
If you are in Mexico City on a Sunday I strongly recommend that you check out Reforma Avenue.
On Sundays, the city turns this busy and important avenue from 9am-1pm into a pedestrian-friendly path for all people to take their morning jog, exercise, walk their dog, cycle, or just simply take a stroll.
Also, it's a great time to take as many photos as you want in front of the Angel of Independence, as there are no cars to look out for.
This only happens on Sundays unless there is some other different event happening but if there isn't and you're there on a Sunday then definitely check it out, take a coffee in hand, and stroll along.
Chapultepec Castle
Chapultepec Castle Is a castle that dates back to 1864 and it used to be the home of past presidents as well as the home of Maximilian and Charlotte of Hamburg when they moved to Mexico.
It is a lavish beautifully decorated castle that has a garden on the second floor and stunning views of the city from its balconies, and a beautiful museum of Mexican society, culture, history, and more. Truly one of the most beautiful castle's/palace's I've seen.
Entrance: $85.00 MXN – payment only accepted in cash and in Mexican pesos at the ticket booth.
Address: Bosque de Chapultepec I Secc, Miguel Hidalgo, 11100 Mexico City, Mexico
Chapultepec Castle is located on top of Chapultepec Hill inside Chapultepec Park, which in and of itself is also an important park to visit and take a stroll through.
Inside Chapultepec Park, there is a zoo, multiple monuments, and the home of previous presidents called Los Pinos, which recently opened up as a cultural center/museum after it was used for many years as the president's home.
The last time this house was used as a home for presidents was in 2018.
It's definitely worth checking out the lavish home interiors, gorgeous gardens, and more inside.
Entrance: Free
Address: Av. Parque Lira S/N, Bosque de Chapultepec I Secc, Miguel Hidalgo, 11850 Ciudad de México, CDMX, Mexico
Museums
Did you know that Mexico City comes in 2nd in the city with the most museums in the world? Right behind London.
So if there's one thing that you will find in abundance in Mexico other than food and traffic, it will be museums, which are located all throughout the city but a majority of them are located on Reforma Avenue.
Some museums you can check out
Museo Nacional de Antropologia – Anthropology and culture ($85.00 MXN)
Los Pinos – previous home of Mexican presidents, now cultural center (free)
Soumaya Museum – modern art (free)
Museo Jumex (free)
Museo Tamayo Arte Contemporaneo – Contemporary art museum ($85.00 MXN)
Museo de Cera – Wax museum ($150.00-$325.00 MXN)
Is Mexico City worth visiting?
I hope that if you've read up to this point you can start to understand the reasons why Mexico City is a must-visit destination for all travelers.
Because Mexico City is a huge city you may be wondering if it feels chaotic all the time and if you may be thinking if you would like to be in an environment such as that for a while.
The truth is that there are so many parks and green spaces, cafes, and more opportunities to explore within Mexico City that offer peace and quiet.
Personally, that's one of the things that I really love about the city, if you want to dive into its chaoticness, you can and if you want to step away into a little bit of peace and tranquility you also can.
There really is something for everyone.
Mexico City welcomes its visitors all year round with many different celebrations that capture visitors' attention and hearts from celebrations like the Day of the Dead in October to the parades of Mexican Independence Day in September, and events in literally every corner of the city all year round.
There's never a dull moment, and it's also a city that never sleeps.
Concluding thoughts on 4-Days In Mexico City – A Complete Guide for First-Time Travelers
Are you feeling inspired to book your trip to México City? Or at least check out how much tickets are from your city to this magical land of the Aztecs.
I hope this guide helped you to get a better idea of how to spend not only 4 days in Mexico City but also ideas for future trips after the first!
Mexico City is definitely one of those destinations that will keep you coming back for more each time and each time you come back you will realize just how much more there is to discover whether it's in the city center or a little bit outside on day trips or with its local people.
Have you been to Mexico City before? What are you looking forward to on your first visit to Mexico City? If you've been, what was your first impression of the city and what would you recommend first-timers to visit on their first trip to Mexico City? Leave your questions and recommendations in the comments!
To more travel moments like these
Like it? Pin it!